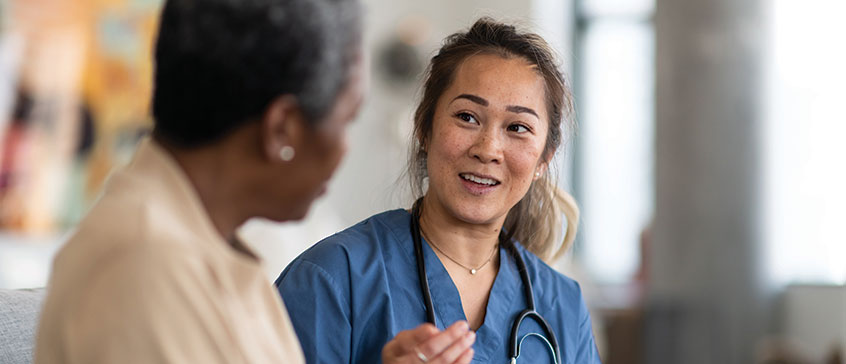 Health Professional Development
Health education you can put into practice.
Stay current in your practice with our Health Professional Development programs.
Our online and on-campus programs are designed to reflect the latest research and developments in healthcare topics that are often required for continuing education credits (CECs). Please check with your association to ensure that the programs you take can be used toward obtaining CECs.
These professional development opportunities are well suited for:
doctors
pharmacists
registered nurses
nurse practitioners
licensed practical nurses and registered practical nurses
physiotherapists
occupational therapists
and other health and helping professionals
Micro-credentials
Micro-credential programs are a great way to get specialized training in a short amount of time. We offer diverse professional development micro-credential programs as follows:
Palliative Care Pharmacy - best suited for pharmacists (community or hospital-based) looking to acquire specialized knowledge to support palliative care.
Wound Management for Health Professionals - best suited for health professionals caring for patients with wounds.
Business continuity - for employees of organizations who are not specialists, but who may play an important role in preparedness and continuity planning, we different programs focusing on business continuity and opperational prepardness.
Fall-prevention - for healthcare practitioners who work with older adults or disabled individuals, we have the following programs:
| PROGRAM | Strategies and Actions for Independent Living (SAIL) | Canadian Fall Prevention Curriculum |
| --- | --- | --- |
| CREDENTIAL | Professional Development Certificate | Professional Development Certificate |
| DELIVERY STYLE | online | online |
| NUMBER OF COURSES | 1 | 1 |
| START DATES | ongoing | ongoing |
| PROGRAM FEES* | $210.00 | $310.50 |
| BEST SUITED FOR | Home care aides, or those in similar positions who provide health care and/or social support services for older adults and individuals with disabilities living in their homes. | Those working with older adults in long-term care, acute care and home care, or in community services or organizations that serve an older population |
| MORE DETAILS | View Program | View Program |