The Fall 2016 Calendar is here!
Curiosity. Wonder. Awe. With more than 200 community courses and professional programs to choose from, we offer a unique opportunity to explore ideas with other lifelong learners in a small class setting. When we view the world from another perspective, details excite and thoughts inspire. Continuing Studies at UVic — infinite perspectives.
View the Fall 2016 Calendar
Now available as an online, interactive document. Search, click, print and share!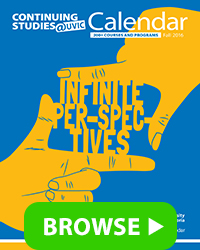 What do you think?
We want to know your thoughts on our new Calendar. Please take a moment to rate the publication:
Order a print calendar
Are you interested in receiving a print calendar delivered right to your house or office?
Use our easy Calendar Request Form to request your copy today.
If you've signed up to receive our print calendar in the past, don't worry, we will automatically send the latest issue out to you as soon as they are available.
---