Who can register in Continuing Studies courses
Adults 18+ can register for Continuing Studies courses. 
The guidance that we have received from our legal department is that the Division of Continuing Studies should refrain from registering underage students in our programs and courses that are intended for adults. The courses are not designed with the younger student in mind, nor are the instructors in those courses subject to the same hiring process for courses or programs with underage students.
How to register for a course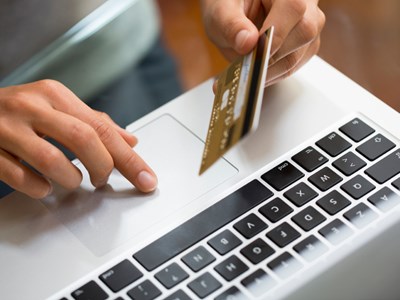 Registering online is simple: just choose the course you want, add it to your cart, and follow the prompts.
You will need:
a valid credit card.
Netlink ID (If you are a new student, then you will be prompted to create a new account and will be assigned a new ID)
Please note: you can only register yourself for courses with our online registration system. If you want to register for more than one person, please phone us at 250-472-4747.
Please view our additional payment options page for Western Union GlobalPay, bank wire and other payment options.
Choose your courses and add them to your Shop Cart
1. You can search our website, browse courses by topic or read our current course calendar. When you find a course you want, visit the course page and click the ADD TO SHOP CART button to add the course to your Shop Cart. Once the item is added to your cart, you'll see a thank you message.
Please note: some courses—especially credit courses—might be open for registration, but you can't register for them online. If that's the case, please follow the instructions on the course page to complete your registration.
2. Continue adding courses to your Shop Cart until you've added all the courses you want.
Please note: some courses have more than one offering each term (online or on-campus options, for example). Choose the offering that best fits your needs and schedule.
3. If the course has prerequisites, you will have to prove you've met those requirements before registering. You can do that by signing in to your account before adding the course to your Shop Cart.
Go to your Shop Cart and complete your purchase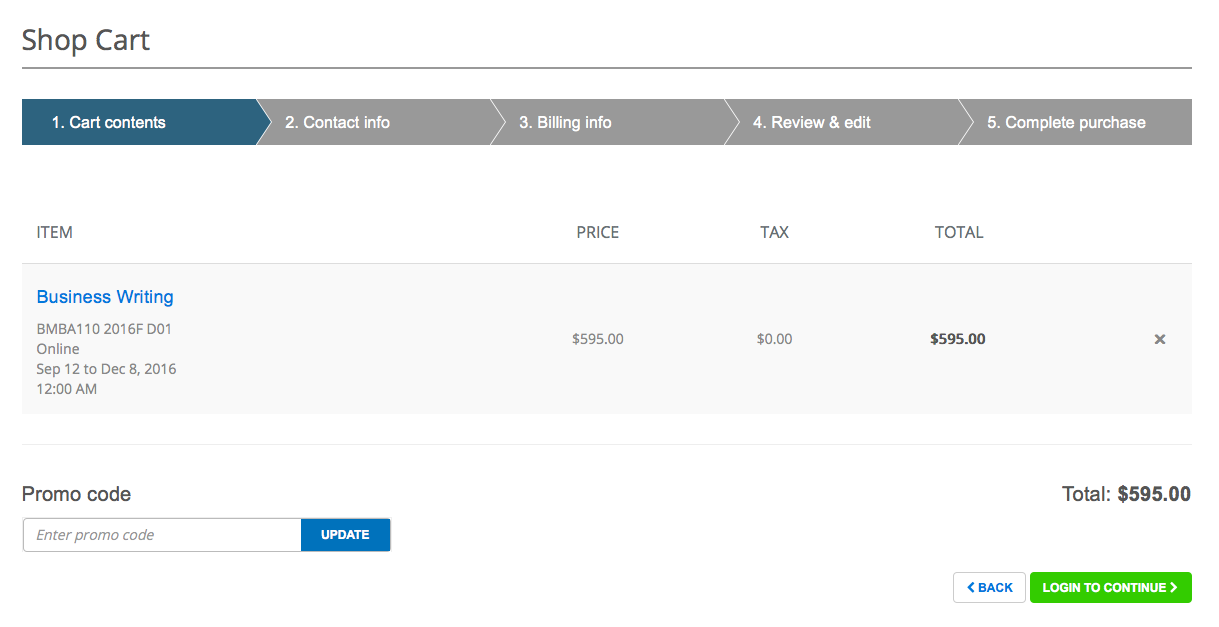 1. Review the items in your Shop Cart. You can remove items from the Shop Cart by clicking "X". Once everything looks good, click the green SIGN TO CONTINUE button to proceed. If you're already signed in, this button will say PROCEED TO CONTACT INFO.
2. Sign with your existing Continuing Studies or NetLink ID, or—if you're a new user—create a new account.
3. Review your account's contact information and make sure it's up-to-date. If everything looks good, click the green BILLING INFO button to go to the next screen. 
4. Enter your credit card information, then click the green REVIEW AND EDIT button.
5. Review your information one last time. If you need to make a change, click the EDIT CART CONTENTS button. If everything is correct, click the green COMPLETE PURCHASE button at the bottom of the page.
When your purchase is complete, you will see a thank you message. We'll also email you a copy of your receipt. Keep this receipt: it has important information about your course(s), including:
location
dates and times
additional materials you may need to purchase
You should also keep a copy of this receipt for income tax purposes.
For more information, please read our online registration FAQ page. 
By phone, mail, fax or in-person
Call 250-472-4747 and our friendly registration staff will help you. Our office hours are 8:30 am to 4:30 pm, Pacific Time. You will need to know the name and/or course code for the course(s) in which you want to register.
You can also download our registration form to register by mail, by fax or in-person. 
Please note: you are not officially registered in a course until you have paid tuition. However, if you are waitlisted for a course, you will not be charged unless/until you have reserved a space in that course.