By Jason McInnis, an instructor in our Environmental and Occupational Health Program
"Both ancient and modern societies have been slow to recognize and control the health hazards associated with work." – R.S.F. Schilling
While some jobs may be inherently more dangerous than others, all workers face health and safety challenges on and off the job. To keep workers safe, potential short- and long-term hazards need to be anticipated, evaluated, recognized and controlled. Considerable strides in workplace health and safety have been made over the past 30 years. But in many respects occupational health remains the poor cousin to safety in terms of focus, understanding and prevention. A combination of often delayed affects, technical competency and evolving research and knowledge are just some of the reasons for occupational health's backseat to safety.   Further complicating matters are the ever-evolving challenges of traditional and emerging health hazards, shifting demographics in both age and gender, rise of precarious employment, and the lines between occupational and non-occupational health continuing to blur.  
The easiest example of this challenge can be found in the nationwide workplace compensation statistics. Occupational diseases have become the biggest contributor to the annual national occupational fatality statistics – where today approx. 60% of all occupational fatalities are due to work related disease. Look further and we can see that uncontrolled occupational health hazards, such as ergonomic-driven musculoskeletal injuries, are common workplace injuries and a significant driver of short and long-term disabilities.
"Complaining about a problem without proposing a solution is called whining." – Some Guy on the Internet
Luckily there is a path forward. Exposure control is key to protecting workers, but a good control method becomes a poor one if poorly designed, hazards are not anticipated or risks misunderstood. By integrated traditional occupational health programs, elevating 'health' to the same status as 'safety', focusing efforts on effective fit-for-purpose exposure control plans and using the hierarchy of controls, occupational health hazards can be eliminated or minimized.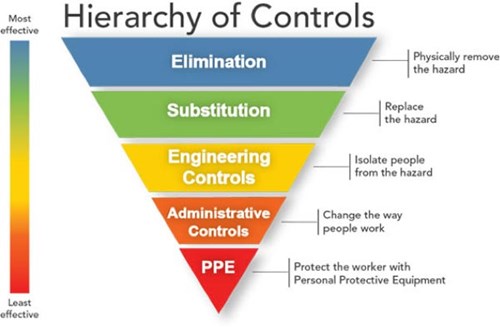 *NIOSH Hierarchy of Controls
Looking forward, novel approaches to occupational health have been developed over the past few years with the goal of integrated health and safety programs to address health protection (on the job) with health promotion (off the job). The US National Institute of Occupational Safety and Health's Total Worker Health program is a holistic approach to worker wellbeing and an innovative example to challenging the conventionally siloed health and safety programs of today.
For more information on occupational health protection and related courses can be found in the Environmental and Occupational Health certificate program offered by Continuing Studies at UVic.