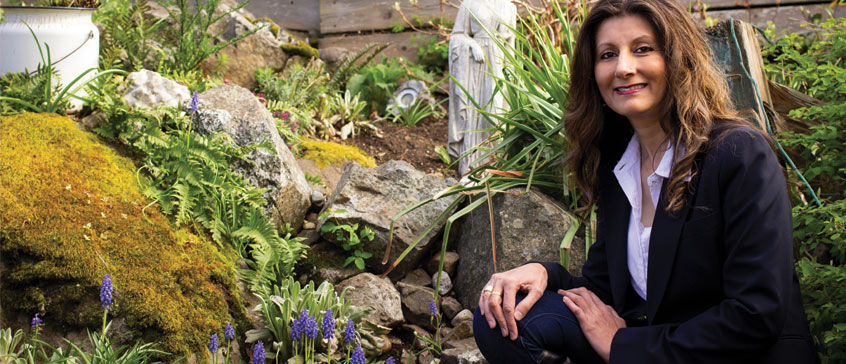 with student Rena Hayes
By Therese Eley, Marketing Services
"A good education is the key that will open many doors to a good career and a bright future."  These are the words Rena (Ravinder) Hayes remembers her grandfather saying to her as a young girl. A sentiment that was echoed by her father, who used to tell her, "It's important to get a good education and not to forget your roots, your culture, and where your ancestors came from."
Rena's parents grew up in India before immigrating to Canada in the late 1950s.  
"My mother's cousin and my father were on the same flight when they immigrated to Canada in 1959, and the two became good friends.  My mother's cousin believed that it would be a good match for my mother and father to get married." Sure enough, they married in Victoria in 1960. A few years later, Rena was born.
Rena's grandfather was well educated and, after he came to Canada, he used to help other new immigrants with their paperwork and translated documents for them. He valued his education, and it's a value he passed along to Rena.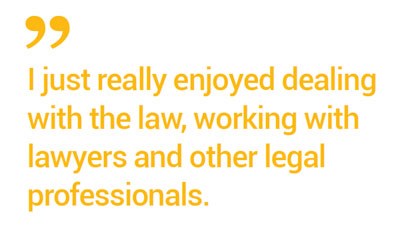 Since high school, Rena had been interested in pursuing a career in the legal system, so as a young woman, she enrolled in a legal office administration program at Camosun College, to help her reach her goal of working in the courts. "I just really enjoyed dealing with the law, working with lawyers and other legal professionals, preparing the documents." And she acknowledges, "Knowing how to write legalese does come in handy in many circumstances."
Her first job in the courts had her processing the paperwork for civil suits and small claims. She recalls, "Across the hall was the criminal section, and the staff there always appeared to be enjoying their work and having fun." So when an opportunity came up to move to the criminal section, she took it.  
"I learned so much, working with the justices of the peace, the police officers, judges and other people who worked within the justice system; and I dealt with people who were charged with offences and saw them go through the system."
After working in the court  registry as a clerk and in the courtroom as a court clerk, an opportunity came up at the Criminal Justice Branch for the Court of Appeal Legal Secretary.
"That was only supposed  to be for three months. Twenty-eight years later I was still there." She reflects, "We dealt with some pretty horrific major crime cases. There was a lot of pressure  for sure, but at the end of the  day, it was rewarding work."
It was around this time that she took her first course with Continuing Studies at UVic. "My manager had recommended a course in leadership. From there, I started checking out other courses in the calendar and found ones that I thought were relevant to my work or that piqued my interest, such as mental health and social justice." 
Later in her career, Rena took a position at Emergency Management BC. She remembers thinking, "Oh, this will be a nice position where I will be able to ease into retirement"—but then came the wildfires of 2017.  "[We were] dealing with a lot of people who were very distraught, they had lost everything."  
She signed herself up for the Resilience on the Front Line course. "That was totally relevant to the work I was doing. In fact I saw people there from search and rescue agencies across the province, firefighters, etc."  She recalls there was a crew from a local fire department sitting at the back of the classroom when, at one point, their alert systems went off. "Suddenly, all the crew members stood up and walked out of the classroom to respond to the call. That course was very interesting."
"I look forward to the new calendar when it comes out. I feel that the courses are very relevant, especially the one that I'm taking right now, the Forensic Anthropology course. The instructor is amazing; the energy that she has and the time that she puts into her lectures and labs are conducive to my learning."
When asked what it is about Continuing Studies courses that keeps her coming back, she answered, "I really enjoy the interactions with the other students. I also appreciate the professionalism, knowledge and expertise that the instructors have. And just the enjoyment of learning, even when you think you know it all," she laughs.