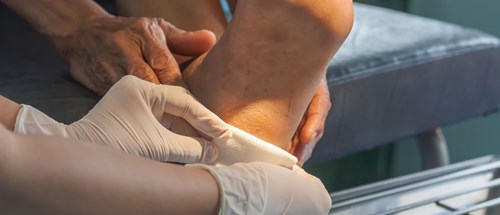 Rasha earned her Certificate of Completion in the Wound Level II course in the spring of 2018. She currently resides in Calgary, AB.
Please share a little about yourself. Where do you live? What's your profession? What do you enjoy doing in your spare time?
 My name is Rasha. I live in Calgary, AB. I previously lived in Saudi Arabia, where I worked as a family doctor for 10 years. In my free time I like to cook food from different cuisines. I also like to read novels.
Why were you interested in taking the Wound Management for Health Professionals program at UVic? What were you hoping to get from it?
What was interesting about the program is that you have a better idea of how to approach patients with different wounds and how to manage them. I wanted to know more about the system in Canada for managing various kinds of wounds.
In the Wound Level II course, students give a presentation on a wound care product of choice. Please share what you presented on, and why it was relevant to you.
My presentation was about the use of Bisphosphonate in treating Charcot foot. Based on my profession, I chose something related to my career and that I was already familiar with.
Now that you have completed the Wound Management program, where do you see yourself going professionally?
For me I have a better idea in how to choose the proper dressing for the relevant wound, how to reduce complications and try to preserve limbs.