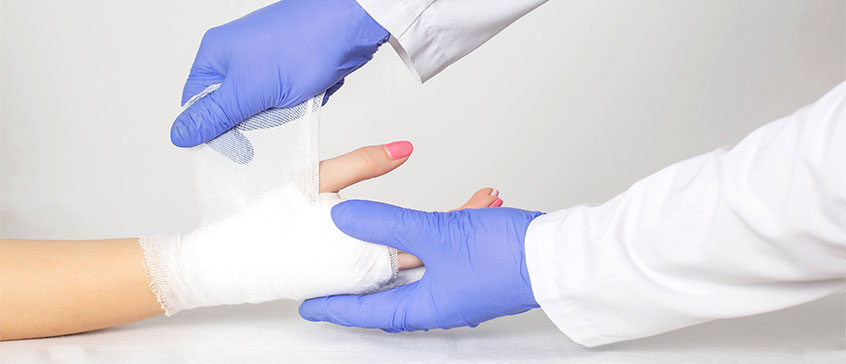 Course description
Wound management is an ever-present challenge for health professionals as risk factors for acute and chronic wounds become more and more prevalent in the population. Prevention and care planning require a strong foundation in the principles of wound management and evidence-based clinical practice.
This comprehensive online course—newly revised in 2023​—provides health professionals with the essential tools to confidently practice evidence-based wound management within an interprofessional team. The course is taught over six weeks, followed by a one-week exam period. You will apply theory using visual case examples, interactive assessments, and collaborative discussion. Expect to spend 4-6 hours of study time each week. The main course concepts include:
assessment and care planning for acute, chronic, and surgical wounds
wound care product and dressing selection
wound healing and prevention
infection
advocacy and evidence-based practice
patient-professional collaboration and education
To learn more about all of our wound courses, see our article: Which wound course is right for you?
Learning objectives
Describe the wound prevention and management cycle and phases of wound healing
Explain the anatomy and physiology of skin and soft tissue and internal and external factors that affect wound healing
Explain principles of wound assessment and wound management, including infection prevention, assessment, and treatment
Describe the process of wound bed preparation, including methods of debridement
Classify factors contributing to skin damage, and identify best practices to prevent and manage skin damage
Identify signs and symptoms of wound infection and interventions for treating infection
List indications and contraindications for use of the range of wound care products
Use principles of evidence-based care to evaluate and apply evidence to your clinical environment
Identify attributes of change agents and demonstrate steps to propose implementation of a change in your workplace
Compare and contrast a collaborative approach to patient-clinician communication and care planning with a compliance-based approach, and identify strategies for effective patient education
Orientation to Online Learning
You will have access to the Orientation to Online Learning course. This self-paced orientation will help prepare you for the Wound Management for Health Professionals Level I online course. The resources and activities in the orientation will help you learn to navigate the online learning platform, access University resources and become confident learning online.
Registration details
Select your offering:
Loading section fee(s)...
You're already on the waiting list for this item.
Sorry, this section is full.
Online registration temporarily unavailable
Sorry, this course is not available for registration at this time.
This course is in progress. Please contact us for more details.
Online registration is closed for this course. You may still be able to register by phone. Call 250-472-4747 to find out.
This course is on your wish list. You will be notified when this course becomes available.