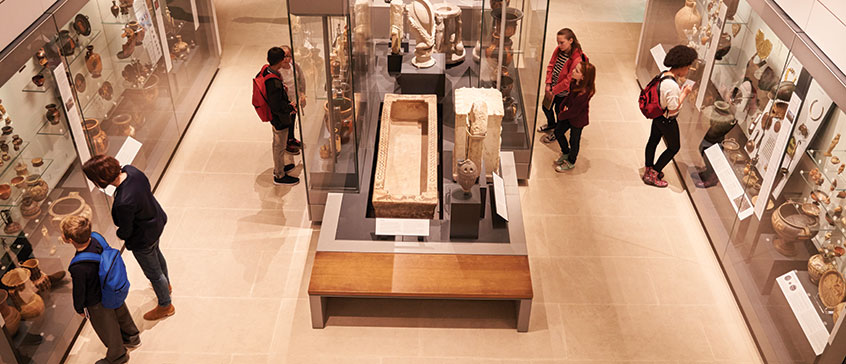 Museum Studies
Shape your museum education.
Whether your interest is in curatorial studies, museum conservation, digital heritage, collections management or cultural landscapes, our Museum Studies courses and program will give you the skills you need to enhance your job performance, improve your confidence, and strengthen your community.
Museum Studies courses
Immerse yourself in the challenges of cultural organizations through an in-depth study of collections, audience engagement, exhibition development and museum information management. Courses include:
Museum Principles and Practices I and II
Collections Management
Caring for Museum Collections
Public Programming
Exhibition Design and Installation
Curatorship: Contemporary Perspectives
Community Engagement and Social Change
Join colleagues from across North America and around the world in building knowledge and skills that will make a difference in your work, your community and your career in the museum, heritage or cultural sector.
Museum Studies programs
Our programs offer a range of flexible study options for museum, heritage and cultural professionals that strengthen your practice, build your confidence and can advance your career. You can choose to participate in many of our courses on an individual basis, or work towards a widely-recognized professional certificate or diploma at either an undergraduate or post-graduate level.
| PROGRAM | Collections Management | Cultural Resource Management | Visitor and Community Engagement | Digital Planning for the Cultural Sector |
| --- | --- | --- | --- | --- |
| CREDENTIAL | Professional Specialization Certificate | Diploma | Professional Specialization Certificate | Professional Development Certificate |
| CORE COURSES | 3 | 3 | 3 | 1 |
| ELECTIVE COURSES | 1 | 7 | 1 | 0 |
| PROGRAM LENGTH | 12+ months | 2-3 years | 12+ months | 14 weeks |
| PROGRAM FEES* | $3,054.16 | $7,047.64 | $3,054.16 | $753.31 |
| BEST SUITED FOR | Those who are looking for a shorter program (museum-based); something more specialized; flexibility | Those who want a variety of course topics to choose from and flexibility of the program. Also good for those that are just starting out in the field but have done some volunteer work already. | Professionals in the museum and cultural sector who want to enhance their knowledge and experience in the area of public programming, audience engagement and community relationship building. | Professionals working in the museum, heritage and cultural sector, who are looking for innovative ways to leverage digital technology to enhance their professional and organizational goals. |
| MORE DETAILS | View Program | View Program | View Program | View Program |
*estimate only
Follow us on Facebook: Cultural Resource Management Program