Instructor Robert Epp teaches our Museum Principles and Practices I and Museum Principles and Practices II.
Why is cultural resource management important to you?
Cultural resources, like museums, heritage sites and historic buildings, tell us a lot about who we are as a society and our values. By properly managing cultural resources we are, in effect, looking after our history and identity. As the German Conceptual artist Hans Haacke has said: "Museums are managers of consciousness. They give us an interpretation of history, of how to view the world and locate ourselves in it." In that way cultural resources also serve as important educational institutions that should be preserved and protected. For instance, when I was living abroad, visiting a city's museum like the National Museum of Singapore or the Immigration Museum in Melbourne, was an excellent way to learn about a city's history and culture, and to quickly situate yourself in a new country.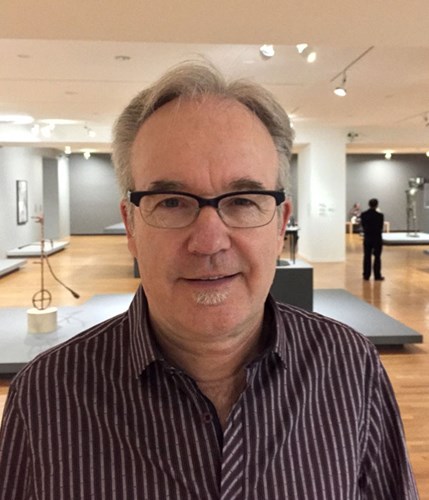 Instructor Robert Epp
What do you like about teaching?
Like most teachers, I enjoy the dialogue. Teaching is a wonderful opportunity to share with students the knowledge and experience I gained from working in museums and galleries in Canada and overseas. By the same token, the participants in my course often have considerable years of professional experience of their own gathered from working in a variety of settings and institutions, from traditional museums and galleries to heritage sites. The cool thing about the online teaching platform is that it allows for participants from all over Canada and the world. Everyone brings a unique perspective to the discussion. The museum issues of the day might be quite different depending on where you live and work, which makes it exciting for me and the others.
What do you do when you aren't teaching?
I also work as independent museum consultant and curator. At the moment, I'm working on organizing a major retrospective exhibition of the late Winnipeg artist, Cliff Eyland. Two of my favorite pastimes – reading and listening to music – feed into this curatorial process. My wife and I are recent transplants from Winnipeg to Vancouver, so we enjoy exploring beautiful BC and discovering what it has to offer. We get out in nature whenever we can for hiking and cycling and I'm learning to get comfortable on the water with a kayak, which is exhilarating. Travel has always been central to my life and New Zealand is big on our list – everyone who's been there gives it high praise.
How did you end up in your career?
My entry into the museum world began more than 35 years ago at the Winnipeg Art Gallery (WAG). My curiosity about the history of art and strong attraction to the contemporary art world led me to look for a gallery job. I was lucky to get hired as a preparator at a major Canadian institution and from there developed my professional museum career. Working at the WAG was excellent on-the-job museum training. Through working at the WAG and in other galleries, I discovered what I really enjoyed most about the museum experience was "learning through objects," which is really what visiting exhibitions and other cultural sites is all about. I was always attracted to that way of acquiring knowledge and it's what sustains my enthusiasm for museums wherever I go.
Any advice for our students?
Travel widely; read broadly. As part of your training in cultural resource management, I recommend visiting as many cultural and heritage sites as you can -- big and small, local, national and international. Learn as much as you can about different people and cultures. There are many ways of being in the world, and each society informs the museum in its own unique way. And besides, it's one of the most fun and easiest ways to educate yourself along the way.