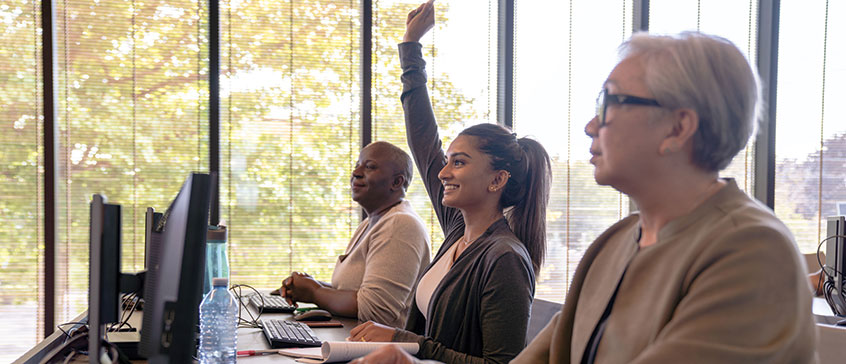 Training and Adult Education
Get a credential, increase your confidence, and become the trainer of choice.
You are passionate about helping people learn, whether it's in a classroom, a workplace or online. You know how satisfying it is when students grasp a new concept, idea or skill. You also know that the most successful instructors and facilitators are the ones who make a commitment to lifelong learning, as both an educator and a student.
If you want to improve your knowledge and skills in effective program development, online curriculum development, online course development, facilitation or instructional design, then our courses and programs in Training and Adult Education are here to help.
Training and Adult Education courses
Our CACE courses are available to anyone interested in adult teaching and learning—or you can choose to take the full certificate program. Some topics covered include:
facilitation skills
workplace coaching
instructional design
peer coaching
project management
presentation skills
enhancing your creativity
Certificate in Adult and Continuing Education (CACE)
The CACE program consists of four required courses and a minimum of four electives. CACE training can help open doors to positions in a wide variety of public, private and non-profit organizations, with job titles like trainer, instructor, facilitator, learning and development professional, or program coordinator. View CACE program page.
Your CACE certification also counts towards the work experience requirement for membership in the Institute for Performance and Learning (formerly the Canadian Society of Training and Development).
Join our LinkedIn community
Stay up to date on current information in the field of training and adult education. Join LinkedIn!