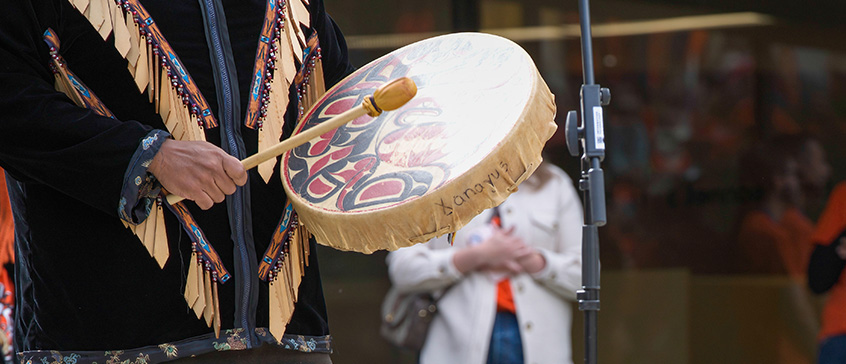 Indigenous Language and Culture
Reclamation and engagement with Indigenous language and cultural practices is crucial to supporting the continuity of Indigenous knowledge systems, and the health and well-being of Indigenous communities. By participating in Indigenous-led programs in language revitalization and fine arts, learners can actively engage in exploring their own creative expression and contribute to cultural continuity.
Indigenous Language and Culture programs:  
The Certificate in Indigenous Language Revitalization (CILR) provides you with a strong foundation of knowledge and skills for local language revitalization initiatives. You will participate in hands-on learning opportunities that are rooted in traditional knowledge, and practices that are accessible to all students.
Follow us on Facebook
Indigenous Language Revitalization Program
This new micro-credential in Indigenous Language Documentation provides training for those looking to engage in language documentation and reclamation initiatives. Learners will gain skills in documentation and recording, learn proper protocols for working with knowledge keepers and archival documents, create new materials for Indigenous language revitalization, and gain a better understanding of intellectual ownership of Indigenous intangible cultural property.
The Foundations in Indigenous Fine Arts (FIFA) certificate is offered through a long-standing partnership with the En'owkin Centre, an Indigenous post-secondary institution in Penticton, BC. This unique program was created to develop and nurture Indigenous writers and artists through the two main focuses of creative writing and visual art. Through these Indigenous-led courses at the En'owkin Centre, you can gain credit that can then be applied to a Bachelor of Fine Arts at UVic.
Shxun'utun Sul'hween/Footprints of the Ancestors: Pathways to Reconciliation is an Elders and youth gathering open to all people, especially educators, health care professionals, public service and students. The Snaw-Naw-As First Nation will host this event on their territory, now known as Nanoose Bay, British Columbia. 
Indigenous Language and Culture courses
Courses in the CILR program cover topics such as the historical context for language loss, best practices for language revitalization, language documentation and language learning. You will also develop practical skills and strategies for engaging in Indigenous language reclamation initiatives.
Courses in the FIFA program provide a unique Indigenous-centred environment for your creativity to flourish. The courses are designed to develop specialized skills and artistic expression in various disciplines and mediums, including oral storytelling, writing for television, painting, sculpting and more. Admission to the program is completed through the En'owkin Centre.