Program description
UVic Pathway is a specialized first-year university program that combines degree courses with advanced academic English classes. The Pathway Program is delivered by the UVic English Language Centre (ELC) in collaboration with the faculties of Social Sciences, Science and Engineering. You can look forward to a challenging, supported first year of university that will put you on the path to success in your UVic degree program.
After successful completion of the Pathway Program, you will have earned almost all of your required first-year academic credits. You will continue in the second year of your chosen degree program at UVic and continue with your UVic degree in one of the following ways:
Program options
Pathway stream:
Canadian career
Science and engineering
Suitable for students who:
Want to explore Social Sciences subjects while gaining practical experience to help get their careers off to a strong start after graduation.
Want to focus on foundational first-year courses in order to pursue specific careers in Science and/or Engineering.
Courses offered:
Canadian Studies, Economics, English, Math, Social Sciences
Canadian Studies, English, Math, Physics
Types of degrees:

BA or BSc in 7 disciplines: Anthropology, Economics, Environmental Studies, Geography, Political Science, Psychology, Sociology

BComm from the UVic Gustavson School of Business

BSc in 9 disciplines: Astronomy, Biochemistry, Biology, Chemistry, Earth & Ocean Sciences, Mathematics, Microbiology, Physics, Statistics

BEng in 7 disciplines: Computer Science, Biomedical/Civil/Computer/ Electrical/Mechanical/ Software Engineering
Career development opportunities
No matter your UVic degree, business knowledge and professional communication skills enhance employability in any field. UVic's Gustavson School of Business and the Faculty of Humanities offer the following programs to give a competitive edge to your degree:
At UVic, co-op—also known as co-operative education—helps you make sure your dream job is a good fit + gain real-world experience while you're still a student. As a co-op student, you'll alternate terms in class with terms working in paid positions with real employers.
If you've come from outside Canada to study at UVic, we can help you search for work and gain experience. Take part in our programs and services and access international student resources.
Program features
Full-time, 12-month program
2 program streams: Canadian Career (includes pre-Business) or Science and Engineering
7 first-year degree courses = 10.5 units of credit
UVic curriculum and instructors
Academic support through labs and tutorials
Smaller first-year classes
Specialized workshops
English Language Centre (ELC) at a glance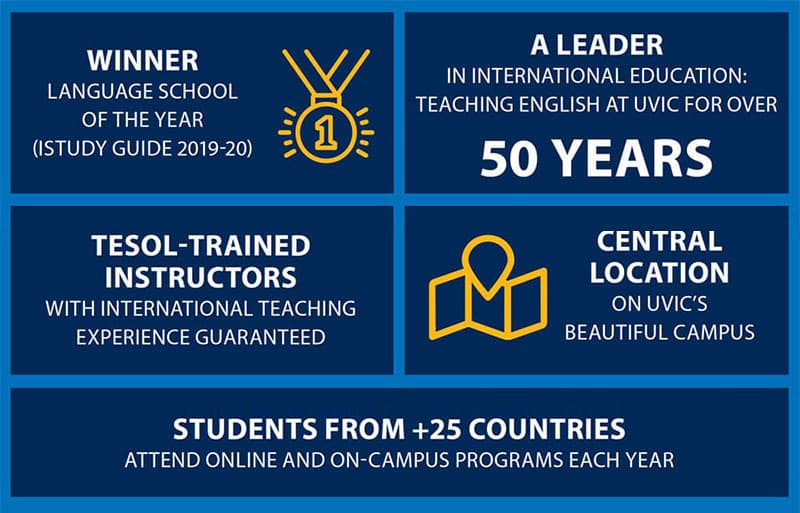 Be part of the UVic community
As a Pathway student, you'll enjoy access to all UVic facilities and services, including:
World-class athletic and recreation centre (CARSA) + 30 sport clubs
200 student clubs and 40 course unions
The UVic library, International Commons and computing facilities
The Student Wellness Centre
The Centre for Academic Communication
The Math & Stats Assistance Centre
University of Victoria (UVic) at a glance