French Immersion teachers in BC face unique challenges. The French Immersion Teacher professional development series transforms practice through workshops dedicated to the unique needs of in-service immersion teachers.
Features
French Immersion specific – Topics are developed and delivered specifically to address the unique needs of a French Immersion classroom
Supportive and professional instructors – Learn from the best French Immersion educators in Canada
Knowledge and practical skills – Get the latest information and learn about best practices and hands-on skills
Collaboration and connections – Learn from, and find support in, a network of professional colleagues who are as passionate about French Immersion education as you are
Inspirational – Workshops that inspire innovation and creativity in your classroom practices, and that you will take with you and pass on to your learners
Offered in partnership with: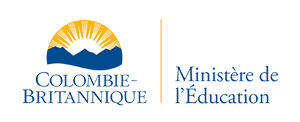 Outcomes
All workshops in this series will:
Identify the unique challenges of teaching in immersion environments
Enhance the skills required to teach in immersion environments
Integrate tools to remain resilient when faced with immersion-based teaching challenges
Develop a community of practice by collaborating and sharing with colleagues across the province in a safe environment
Online registration temporarily unavailable
Sessions
This workshop aims to help immersion teachers improve their pedagogy and French immersion teaching skills from the comfort of home! Find out about new resources available in the ACPI Education Zone, CASLT Learning Center and other national associations. Learn to navigate the goldmines of professional development tools.
This workshop will provide teachers with an overview of the evolution of CEFR adoption and its action-oriented approach in Canada. What are the benefits? What are the challenges? Discover creative solutions for improving learner confidence and skills in line with the CEFR.
Join us as we explore First People's Principles of learning in the French classroom. This is the first of a series of 4 workshops offered with Nicole George from UBC on this topic. Exploring our personal and professional identities/histories in relationship to Indigenous peoples, histories and worldviews.
Let's explore teacher inquiry in the French classroom and strategies to motivate our language students. We will share tools and ideas to engage students in using this approach to support both language learning alongside content learning within the new curriculum. 
Exploring the reciprocal relationship between Indigenous knowledge/worldviews and Western educational perspectives. 'How can Indigenous perspectives be applied to the teaching and learning of the Frim/FSL classroom?
This workshop will provide guidance for participants to start current literary circles as well as lists of books appropriate for students' reading levels and their cognitive levels. Cet atelier donnera des pistes pour les participants pour démarrer les cercles littéraires en cours ainsi que des listes de livres appropriés pour les niveaux de lecture des élèves et leurs niveaux cognitifs. 
Fees