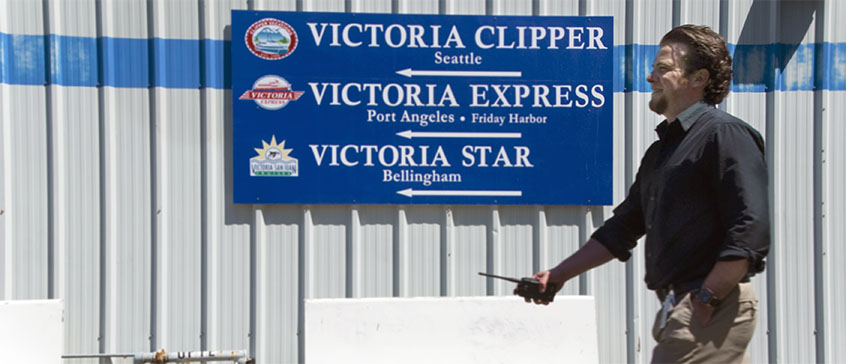 What's a young man to do when he's looking for more career opportunities just as the economy hits the skids?
If you're Shawn Ridout, you screw up your courage and go back to school. As assistant operations manager at the Victoria Clipper ferry service with nearly a decade of experience in tourism, he wasn't looking for a traditional university degree.
"I didn't want the experience of just getting a piece of paper. Sitting in a classroom with 150 other people wasn't really what I was looking for," Ridout says.
So, Ridout, 31, enrolled in the intensive 12-week Certificate in Business Administration (CBA) Fast Track Program. By the second week, Ridout's perspective grew beyond his native Victoria. "Last year I was pretty focused on having my life in Victoria and having a government job, or something of that nature. Now I understand the opportunities that are out there. There are opportunities all over the world."
I was really inspired by it and it definitely changed my life. 
- Shawn Ridout
Ridout had taken an initial crack at UVic over a decade ago as a history student. But before he finished that degree, he took a hiatus and never went back. "I wasn't confident of where I was going."
The CBA Fast Track, however, has given him skills and precious confidence.
"I had a lot of nerves going into the program because I had not been in a classroom environment for many years and not knowing exactly what the demand of completing so much material in such a short period of time was going to be," Ridout says via email.
In an earlier conversation over coffee, Ridout gave specifics. "I give the instructors credit for teaching the core subjects in an intense period of time. In accounting, in seven days, I went from knowing nothing to doing balance sheets and statements of earnings. In fact, finance and financial accounting were my two top marks," Ridout says.
For his efforts he was rewarded with the Gary Holtom Award for top grades in his program.
There were other benefits beyond the academic too. "I got up every morning and I was happy going to school. I was really inspired by it and it definitely changed my life. I really didn't think I would have fun doing this and I did."