Continuing Studies at UVic offers the Kalman Award for International Heritage Studies to students looking to participate in a heritage studies learning activity abroad.
Applicants must be enrolled in the Diploma in Cultural Resource Management, the Graduate Professional Certificate in Cultural Heritage Studies, or any degree program at the University of Victoria.
The Kalman Award supports travel and other expenses for activities in which students can expand their learning experiences and professional networks. The current value of the Kalman Award is a maximum of $1,500.
Funded learning experiences include:
Attendance at heritage-related courses, seminars, workshops and conferences in locations outside Canada or the student's country of residence, whether offered by the University of Victoria or by other institutions.
An internship with an international government entity or with a heritage firm or professional (Canadian or international) working outside Canada.
Self-directed study (ie AHVS 491A) in heritage conservation in a location outside Canada or the student's country of residence.
Criteria
Applications will be assessed by how well the proposed activity will complement the student's academic program and/or career goals.
Academic excellence - preference will be given to applicants who have excellent student records.
Opportunity for broadened perspectives - preference will be given to applicants whose proposed activity provides an experience much different (culturally, politically, geographically) than they can have where they live or were raised.
Impact of the award - while the demonstration of financial need is not a requirement, preference may be given to students who are needful of support, when other aspects of the applications are equal.
In addition, the applicant must not have received a Kalman Award in the previous 24 months.
How to apply
Applications are due November 15 annually. If you would like to apply for a Kalman Award for International Heritage Studies, please download and fill out the application form (PDF) and email it to Maxine Reitsma, Program Coordinator.
---
Congratulations to our 2018 Kalman Award for International Heritage Studies Winners Giorgia Ricciardi and Rachel Lallouz!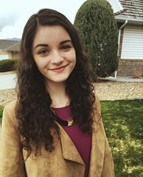 Undergraduate student Giorgia Ricciardi will be using the award to travel to Central Europe to participate in the I-Witness Field School where she will study Holocaust memorialization in various museums, cemeteries, synagogues, the sites of former concentration camps, and large and small-scale memorial sites. Along the way, she will have an opportunity to meet with professors, and students of Holocaust and Jewish Studies, museum and memorial guides, Holocaust survivors as well as artists and activists involved in the memorial projects.

Graduate student Rachel Lallouz will be using the award to travel to the Lesbian Herstory Archives in New York City for self-directed research on queer cultural heritage as part of her thesis work. As the world's largest collection of materials by and about lesbians and their communities, Herstory Archives will provide Rachel access to over 11,000 monographs dating from the 19th century to today. Her subsequent work will contribute to the field of queer heritage, an area of scholarly study that has been largely overlooked until recent years.