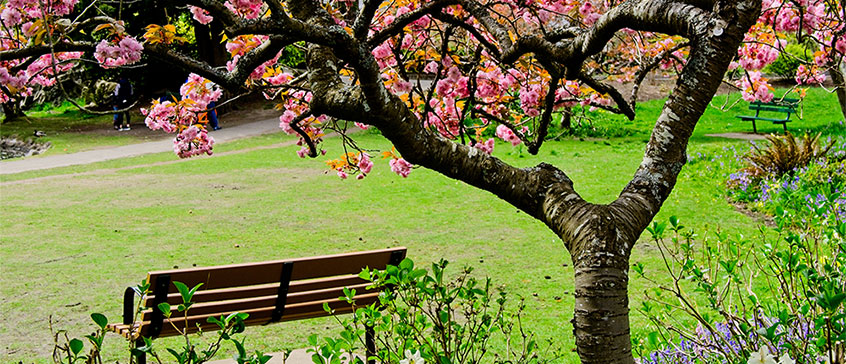 COVID-19 updates    
We are cautiously optimistic in planning for our fall 2021 term by offering both online and in-person 5-day field courses. We will alert registered students as soon as possible to any changes to the current schedule or format, and ask you to read our emails carefully, as well as information that might be attached. As a reminder, please check your junk mail in case our emails are being routed there by mistake!
We recognize the stress that the past year has placed on everyone—in particular our program students—and appreciate your continued patience and support.
Upcoming summer term courses:
Fall course registration opens on May 1. We recommend registering early to ensure you get the courses you need. January course registration opens on Aug. 1. Please register for your course online if you are a program student or call the Continuing Studies registration desk at 250-472-4747.
Restoration of Natural Systems Program (RNS)
Ecological Restoration Program (ER PSC)
5-year schedules online
The 5-year program schedule has been updated and has its own webpage where you can link straight to course descriptions. Bookmark these for quick access:
390 project ideas
If you are interested in finding a 390 project, please consider the following:
University of Victoria – Mystic Vale Gateway Project and Bowker Creek Restoration Design (Victoria)
Two exciting opportunities have arisen at the University of Victoria.
The first, led by UVic alumni in coordination with the District of Oak Bay, will involve designing an educational gateway into Mystic Vale, based at the sump house near Cedar Hill Road. The sump house—covered in artistic graffiti and situated at a beautiful curve in Hobbs Creek, already has planters that are currently overrun with weeds. It presents a perfect location for meaningful design and educational opportunities for Mystic Vale users.
The second, led in partnership between the RNS Program and Bowker Creek initiatives, will focus on the headwaters of Bowker Creek, situated on the university campus. Current conditions and restoration opportunities will be mapped, and long-term plans for connecting with downstream efforts will be launched.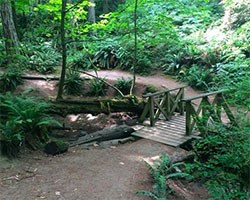 Galiano Conservancy Creek Restoration (Gulf Islands)
The Galiano Conservancy is launching an effort to restoration natural stream and creek flow patterns to their flagstone property. The project is an enormous effort that will take many years. They are looking for keen RNS students willing to plan pieces, from working on the hydrology and installation, to native planting plans. Their lead steward is an RNS graduate and a phenomenal mentor, and this is a great opportunity!
Photo credit: Galiano Conservatory Association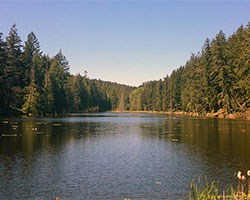 Courtenay River/K'omoks Estuary (Comox Valley)
Kus-kus-sum (KKS) was once a tidally-influenced forested riparian area and salt marsh alongside the Courtney River and within K'ómoks Estuary. In 1949, it was developed as a sawmill. The restoration of the site involves the recreation of a natural shoreline, saltmarsh channels and riparian forest. Project Watershed has partnered directly with the City of Courtenay and K'ómoks First Nation on this initiative, and have had strong community and individual engagement. They are looking to build further collaboration through student involvement in the restoration phases of the project, which are launching spring 2021.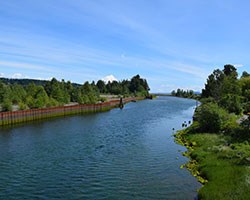 ---
Exploring the causes of decreased berry production in a historic cranberry garden
Native cranberry production has declined in many regions across BC from a large suite of environmental changes, including altered water tables, nutrient enrichment, and changes in plant composition due to the loss of traditional management practices. In the Fraser Valley, the Katzie First Nation has observed changes in berry production in their traditional garden areas, and are seeking a deeper understanding of why and what management actions are best suited moving forward. They are looking for a student, guided by community members and advised by Dr. Richard Hebda, to methodically test the causes and solutions of local berry declines.
Program updates
Regional UN logo
This year launches the United Nations Decade on Ecosystem Restoration. It is a rallying call for the protection and revival of ecosystems all around the world, for the benefit of people and nature. It aims to halt the degradation of ecosystems, and restore them to achieve global goals.
The Restoration of Natural System (RNS) Program is leading a collaborative effort in the capital region to mark the Decade. As a first step the program has commissioned the regional UN logo, designed by W̱SÁNEĆ/Coast Salish emerging artist Sarah Jim.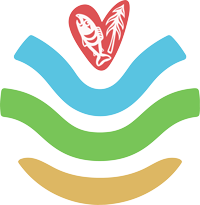 From the artist:
"Salmon and cedar are significant contributors to the health and culture of Coastal BC. They are medicinal and sacred to many Indigenous nations here on the coast. They have shaped worldview, beliefs, and ideologies with their abundant and generous presence. Salmon are a keystone species for the ecosystem as they are a major resource in the food web. Cedar is strong and rot resistant making it utilitarian. The intention of representing these two entities together symbolizes the interconnected of all things; the land and sea, plants and animals, the natural world and the sacred."
Our local region has a long history of restoration and stewardship, and we are using this opportunity to both celebrate our achievements and re-commit to helping heal the nature that surrounds us.
---
Reminder: checking your grades
We encourage you to sign in and check your final grades online. Depending on whether you are a credit or non-credit student, there are different places to check your final course grades.
 
If you are an RNS Diploma (credit) student: you can view your grades by signing in to the UVic home page and searching under "My online tools".
 
If you are an RNS Certificate or ER Certificate (non-credit) student: you can view your grades by signing in to Continuing Studies Website. Click on "My Account" near the top right of the page, then click on "Transcripts, Reports, Tax Forms" on the left hand side menu and select Administrative Transcript.
---
Post nominal letters
Wondering what to put behind your name once you graduate? Here are the post nominal letters according to program:
Restoration of Natural Systems Diploma: Dip.RNS
Restoration of Natural Systems Certificate: Cert.RNS
Professional Specialization in Ecological Restoration: PSCert.ER
Other updates
If you are currently looking for work, here are some employer websites to check out:
---
Looking to volunteer?
The following groups are recruiting volunteers:
Want to connect with the larger UVic Environmental Studies community?
Sign up for the bi-weekly newsletter and find out relevant information on local events, seminars, volunteer opportunities and more