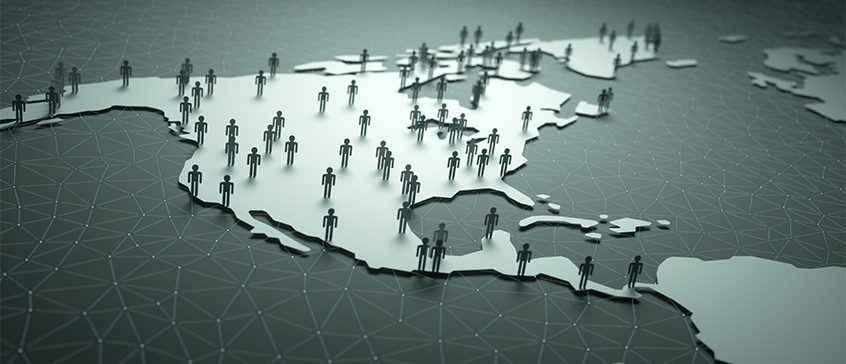 Course description
This course provides an introduction to methods in spatial epidemiology and outbreak detection. The focus is on application rather than theory: this is not a course in spatial statistics.
The course is structured sequentially to move from spatial exploration of health data, to quantifying spatial patterns and clusters, to spatial exposure assessment and, finally, to methods for assessing risk.
Broadly, the spatial epidemiology part of the course focuses on:
assessing exposures through the use of a geographical information system (GIS)
conducting small area health studies (ecological models)
incorporating spatial parameters into models for individual health analyses.
The outbreak detection part of the course focuses on visualization of spatial data, disease surveillance and the use of spatial scan statistics in cluster detection.
Learning objectives
Recognize when—and why—a spatial approach is required and the assumptions, strengths, limitations, and interpretations of different spatial methods used in health research.
Identify geospatial technologies and methods for epidemiology and cluster detection.
Choose an appropriate study design to address a specific spatial epidemiological question.
Visualize patterns of health and disease in place and time.
Analyze clusters and diffusion of disease to identify outbreaks.
Conduct small area and individual spatial epidemiology studies.
Critically interpret spatial epidemiology and outbreak detection methods.
Apply spatial epidemiology and outbreak detection methods to various population health research questions.
Prerequisites
Admission to the PSC in Population Health Data Analysis or permission from the program to take up to two courses for professional development
Epidemiological Statistics (PHDA02) and Population Health and Geographic Information Systems (PHDA03) or proven proficiency in both areas. Proven proficiency includes:
Working knowledge of basic statistical concepts (how to interpret P values, null hypothesis and confidence intervals).
Some experience with regression modelling and basic programming using statistical software (e.g. DATA with SAS; regress/logit with Stata, etc.)
Some experience working with ArcGIS and MS Excel
Note: If you are looking to enhance your required pre-requisite skills and knowledge prior to registration, contact us about accessible and free online resources.
In addition to other course fees, new students will be charged a one-time $100 secure ID token fee when registering for their first course. (Please uncheck the box for this fee in the registrations details below if you have already paid it.)
Stand-alone
If space is available, you may take PHDA04 as a stand-alone course for professional development. Non-certificate students must meet the same prerequisites as certificate students.
Minimum registration requirement
This course may be cancelled if the minimum enrollment requirement is not met by the registration deadline.
Our students say...
"The GIS courses, PHDA 03 and PHDA 04, provided the greatest benefits. They were excellent and introduced brand new skills for me. Prior to taking these courses I had some brief exposure to GIS within my Master's program and through the free online PopData courses. The PHDA 03 and PHDA 04 course labs were very detailed and instructional, offering good balance between theory and practice. The courses generally had enough materials I could take away to continue working independently."

-Sophy Zhang, Program Administrative Coordinator, Canadian Mental Health Association, BC Division
To see what other students are saying about this course, please visit https://www.popdata.bc.ca/etu/testimonials.
Registration details
Select your offering:
Loading section fee(s)...
You're already on the waiting list for this item.
Sorry, this section is full.
Online registration temporarily unavailable
Sorry, this course is not available for registration at this time.
This course is in progress. Please contact us for more details.
Online registration is closed for this course. You may still be able to register by phone. Call 250-472-4747 to find out.
This course is on your wish list. You will be notified when this course becomes available.
Continuing Studies statement on use of educational technology
This course will require the use of Zoom and may use other education technology such as internet-based applications, cloud services, or social media. In order to complete this course you will be required to either consent to the disclosure of your personal information outside of Canada to enable use of these technologies, or work with the Division of Continuing Studies to explore other privacy protective options (such as using an alias or nickname).