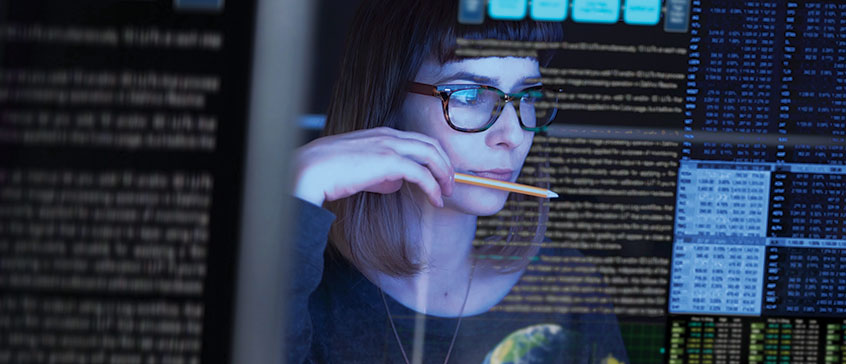 Course description
This new and improved course will increase your productivity in both the workplace and at home. Explore hardware/software integration, discover networking fundamentals and the "cloud". Employ Microsoft apps to gather interrelated data for multi-user collaboration, construct dynamic and engaging presentations, acquire sophisticated financial proficiencies, develop database competencies, create and annotate PDFs, and learn to tweak your online presence using HTML coding.
(Note: This course has a new course code. It was formerly TECJ100)
Learning objectives
Identify different types of hardware and software
Effectively use the Windows operating system, including file management
Construct and develop comprehensive activities using productivity software, such as MS Word, Excel, PowerPoint, Adobe Reader and OneNote
Comprehend and produce documentation that efficiently shares data between applications and users
List and identify the advantages and disadvantages to working on a network and/or cloud servers
Describe various internet applications and services and discuss issues related to the World Wide Web
Design a basic web page in Hypertext Markup Language (HTML)
Format
The online format of this course lets you study from anywhere, anytime.
The course is 13 weeks in duration. Students log in to the course and communicate with the instructor and fellow students via the course management system, Brightspace. View our page about online learning for further information.
Software requirements
It is a requirement of this course that you have Microsoft Office 2013 or a more recent version. Students are responsible for obtaining their own software. Microsoft 365 is available for free for students registered at Continuing Studies at UVic. View details.
Note: Microsoft servers are situated outside of Canada, therefore your data is not governed by Canadian privacy legislation.
Funding
This course is eligible for the StrongerBC future skills grant. To register using this grant please first review your eligibility and then select the StrongerBC future skills grant fee type below. 
Required equipment/software
Microsoft Office Professional 2013 or 2016
Personal computer with internet access
Microsoft Windows, Vista edition or newer
Recommended web browsers
For Windows computers:
Internet Explorer: versions 8.0 or later
Mozilla Firefox: latest version
Google Chrome: latest version
For Apple computers:
Mozilla Firefox: latest version
Apple Safari: latest version
Google Chrome: latest version
Registration details
Select your offering:
Loading section fee(s)...
You're already on the waiting list for this item.
Sorry, this section is full.
Online registration temporarily unavailable
Sorry, this course is not available for registration at this time.
This course is in progress. Please contact us for more details.
Online registration is closed for this course. You may still be able to register by phone. Call 250-472-4747 to find out.
This course is on your wish list. You will be notified when this course becomes available.