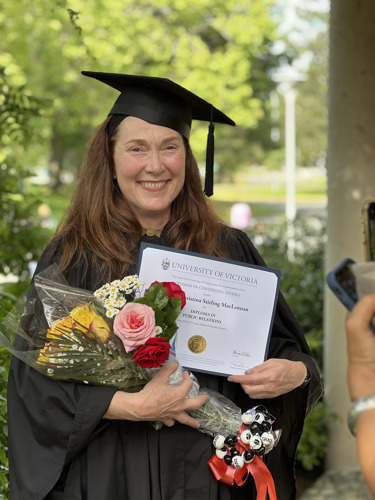 What happens when you blend projects with passion? For most of us, it's a satisfying and rewarding experience to see a project through from start to finish. And when you combine community building with social impact work, it's the best of both worlds for Alanna MacLennan.
"I wanted to make a change in my career, and I wasn't quite sure what that looked like. Except that I wanted to build upon my experience," she says. "The program at UVic appealed to me because of my interest in writing and media."
Alanna is a recent graduate of a Diploma in Public Relations (PR) with Continuing Studies at the University of Victoria (UVic). She also holds a degree in sociology from the University of British Columbia. Career-wise, she has over 20 years of experience in social justice, youth advocacy, visual arts, food security and community engagement. So what drew Alanna to the world of public relations? After talking about a career shift with a friend, who pointed her to the program at UVic, she learned how the program could boost her technical training and lead to working with a communications and engagement focus.
One of the aspects Alanna found inspiring is the program's process along with the content. "I liked how the courses built upon each other," she explains. "It was also an introduction to online and virtual learning in a dynamic way. And I think that's a pretty big superpower in today's world of work."
The comprehensive reading materials and the supportive instructors were instrumental and made her public relations studies a really positive and rich experience. "I appreciated that we were learning from professionals at different stages of their own careers and from various backgrounds," she describes. "From working in the public to the private sector, business and government, and as freelance journalists, there was a wide range. This demonstrated the broad application of the program and gave me lots to think about for my journey."
For Alanna, the decision to take the PR diploma program was also partly about personal growth. The pandemic pause was a chance to stop, reflect and learn in a focused way. Looking back on her career, she sees a natural trajectory. One of Alanna's first jobs was as a volunteer coordinator at a youth resource centre. From there, she got involved in fundraising, project management, and film and food security, for non-profits and local government.           
Intentionally seeking out different perspectives inspires Alanna. "There's always lots to learn," she adds. "So I'm trying to use this time as meaningfully as possible."
Alanna grew up in an around the lower mainland, the interior of BC and Toronto. She now lives in Vancouver. In her spare time, she enjoys running, writing, cooking, reading, spending time with friends and keeping her garden alive. Throughout the program, Alanna started to learn to play the ukulele during study breaks. Her words of advice for those eyeing public relations as a career option?
"With so many messages, I think public relations is an essential life skill to cut through the noise. In general, it's good to try something new that challenges the messages you tell yourself," she says. "That whole thing about trying things that scare you—whatever that may be—I think it's a personal thing and the joy of discovery."
Posted September 26, 2023