COVID-19 updates    
We are planning for both online and face-to-face delivery of summer courses in 2022. In the case of any changes to face-to-face delivery, registered students will be notified as soon as possible.
Upcoming courses:
Summer course registration opens Feb. 1. Courses fill up fast, so be sure to register early to get your seat! Please register for your course online if you are a program student or call the Continuing Studies registration desk 250-472-4747.
Restoration of Natural Systems Program (RNS)
Ecological Restoration Program (ER PSC)
SUMMER 2022 TERM:
Due to unexpected circumstances, ER505 will not be scheduled this summer. ER PSC students have the option of taking either:
In lieu of another ER 500 level course, contact the program coordinator for more information or to register.
5-year schedules online
The 5-year program schedule will be updated soon and more courses will be added to each term starting in fall 2022. Bookmark these for quick access:
Program updates
New courses
ER338C Special Topics: Methods in Adaptive Management for Ecological Restoration
August 2022 | Instructor: Dr. Nancy Shackelford
This field and lab course introduces monitoring and mapping as decision-making tools and provides crucial training in data collection, management and technologies for understanding restoration outcomes and using them to inform adaptive management over the long-term.
ER336 Science Communication for Ecological Restoration
September 2022 | Instructor: Alina Fisher
This online course, with a two day face to face portion, introduces a variety of perspectives, methods, and skills that will support effective communication about restoration with partners and the public, and will enhance respectful leadership tools in restoration projects.
---
June 2022 graduation dates
If you think you are nearing completion of your program, or that you will have completed all your courses by April 30, you can still apply for a June 2022 graduation up until Feb. 15 (with a late fee). Please get in touch with the program coordinator to ensure your RNS program is complete. If you are a concurrent UVic undergraduate student, you must consult with Academic Advising before you can graduate. If you are an RNS diploma student, you'll need to apply and contact the program coordinator. If you are an RNS certificate or an ER PSC student, you'll need to contact the program coordinator for instructions on how to proceed.
---
Reminder: checking your grades
We encourage you to sign in and check your final grades online. Depending on whether you are a credit or non-credit student, there are different places to check your final course grades.
 
If you are an RNS Diploma (credit) student: you can view your grades by signing in to the UVic home page and searching under "My online tools".
 
If you are an RNS Certificate or ER Certificate (non-credit) student: you can view your grades by signing in to Continuing Studies Website. Click on "My Account" near the top right of the page, then click on "Transcripts, Reports, Tax Forms" on the left hand side menu and select Administrative Transcript.
---
Tax information
Looking for a copy of your T2202A tuition receipt for income tax purposes? It'll be available for download by the end of February.
If you are an RNS diploma (credit) student: You can view and print your T2202A by logging in to the UVic website and searching under "My online tools."
If you are an RNS certificate or ER certificate (non-credit) student: You can view and print your T2202A by logging in to the Continuing Studies website. Click on "My Account" at top right of page, then click on "Tax Forms" on the left-hand side menu.
Post nominal letters
Wondering what to put behind your name once you graduate? Here are the post nominal letters according to program:
Restoration of Natural Systems Diploma: Dip.RNS
Restoration of Natural Systems Certificate: Cert.RNS
Professional Specialization in Ecological Restoration: PSCert.ER
390 project ideas
If you are interested in finding a 390 project, please consider the following:
University of Victoria – Mystic Vale Gateway Project (Victoria)
Led by UVic alumni in coordination with the District of Oak Bay, the Mystic Vale Gateway Project will involve designing an educational gateway into Mystic Vale, based at the sump house near Cedar Hill Road. The sump house – covered in artistic graffiti and situated at a beautiful curve in Hobbs Creek, already has planters that are currently overrun with weeds. It presents a perfect location for meaningful design and educational opportunities for Mystic Vale users.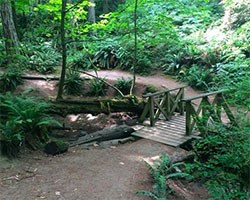 Exploring the causes of decreased berry production in a historic cranberry garden (Greater Vancouver area)
Native cranberry production has declined in many regions across BC from a large suite of environmental changes, including altered water tables, nutrient enrichment, and changes in plant composition due to the loss of traditional management practices. In the Fraser Valley, the Katzie First Nation has observed changes in berry production in their traditional garden areas, and are seeking a deeper understanding of why and what management actions are best suited moving forward. They are looking for a student, guided by community members and advised by Dr. Richard Hebda, to methodically test the causes and solutions of local berry declines.
Galiano Wetland Restoration (Gulf Islands)
We have been approached by an active, excited community member with one acre of wetland on Galiano Island that she wants to restore. The area is currently being managed for reed canary grass (Phalaris arundinacea) invasion in partnership with Satinflower Nursey, and will represent a "blank slate" come spring. She is looking for a student to help design, plan, and implement a native wetland to replace the invasive grass.
Denham Island Conservancy Association (Gulf Islands)
The Conservancy is actively working on a wide variety of restoration projects in the protected areas on Denham Island, including marsh restoration, bullfrog (Lithobates catesbeiana) removal, habitat restoration for the endangered Taylor's Checkerspot butterfly (Euphydryas editha taylori), bat habitat planning, plant invasion control, and grazing exclusion. There is travel support for interested students keen to work in the beautiful Gulf Islands.
---
Other updates
Looking for a job?
If you are currently looking for work, here are some employer websites to check out:
---
Looking to volunteer?
The following groups are recruiting volunteers:
Want to connect with the larger UVic Environmental Studies community?
Sign up for the bi-weekly newsletter and find out relevant information on local events, seminars, volunteer opportunities and more