with instructor Mary Byrne
By Therese Eley, Marketing Services
Mary Byrne was at home with her four month old son when she got a phone call from Continuing Studies at UVic asking if she would be interested in teaching a course on Gustav Mahler after the original instructor fell through.
"I had just finished my PhD and the music school had said, 'Why don't you ask Mary?' and the rest is history!" she laughs. Mary started teaching a couple of weeks later.
That baby is now 26 and over the years Mary has taught 51 unique courses with Continuing Studies, only repeating the same course one time in all those years.
"It's really a nice group of students. Lots of repeat students—probably 80-90 per cent—so it's become a bit of a community. They end up socializing together and gardening together. We've even had a couple of marriages come out of the class!"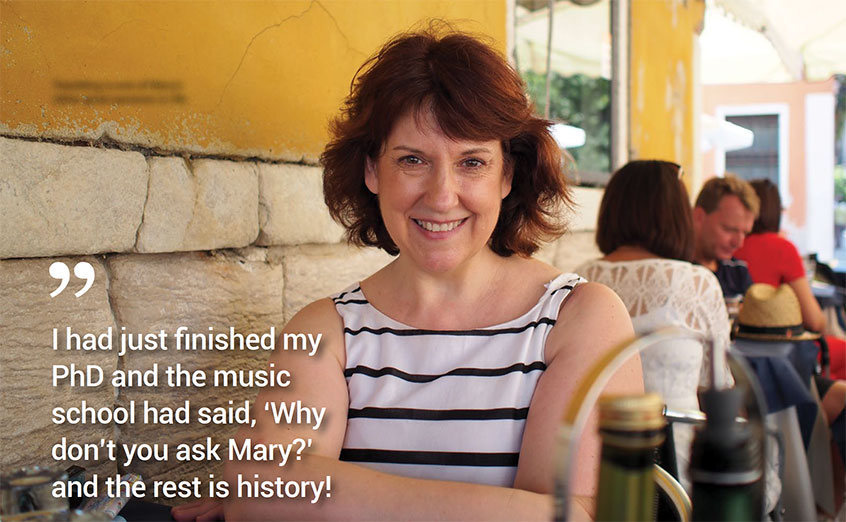 "There's a big part of me that feels like we're all in it together, which is awfully nice for me. When I'm selecting a topic, I intentionally select something that I don't feel I know enough about. It gives me a chance to hunker down for a couple of months and really just do some of my own private study with it to expand my knowledge base. It's one of the reasons I continually come back to something new instead of repeating the same course. It keeps it interesting!"
 "I have one student who swears I've never used the same piece of music twice in all those years. I'm not sure she's right, I'm pretty sure I must have, but she swears I haven't. But that's the thing, music has such a huge trajectory, thousands of years of history, so there's an endless amount to explore."
Mary took up playing the flute when she was in grade six and discovered her passion. Today she is a respected teacher, lecturer, recorded artist, published author and also a regular performer with the Victoria Symphony. 
Mary enjoys teaching in a variety of settings and formats, including teaching with the Victoria Conservatory of Music's post-secondary program. "Those students are trying to make a career of music so there is an intensity in that. Continuing Studies is different in that the students genuinely want to earn more, learn something new and unfamiliar. There's no grand design that has to be followed. It's like we're taking a journey together. I get really excited about what I can share with them and I try to bring them in to that same space."
Her goal is to inspire people to "turn off our headphones and go to more concerts. I really think we should be experiencing things live, as much as possible. Which is not to say there is no place for that, but we don't go to enough concerts, listen to music live and get that whole body experience from the sound of the bass drums or the tuba. Same for theatre. We tend to make our experiences small on our phones and screens. Don't just say 'I wish I could go there'. Book the ticket!"