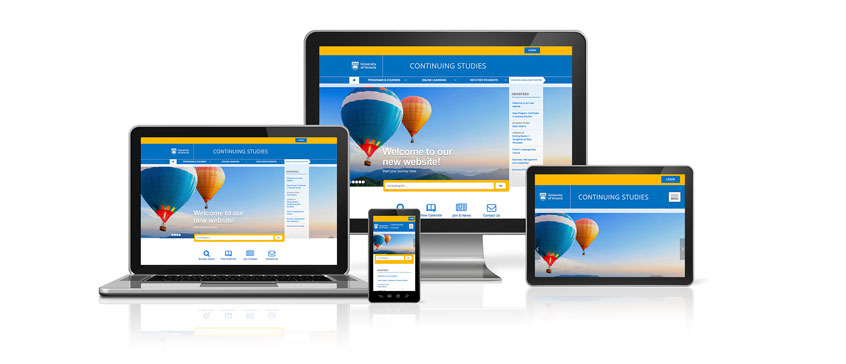 Continuing Studies at UVic is proud to announce the launch of our new website!
We created this website to put the wants and needs of you, our student, first. Research and user feedback told us that our website wasn't living up to its full potential. Continuing Studies at UVic serves a variety of students, from mid-career professionals to seniors to English language learners. Our students want to search for specific things and/or browse at their leisure—especially on mobile devices—and our old website didn't make that easy. We're hoping you find our new website to be a big improvement over the old one.
Some of the features you'll find on our new website include: 
It's mobile friendly! You can now view our site—and register for courses—from your computer, tablet or smartphone. 
---
We've improved the search function, making it easier to find exactly what you're looking for.
---
The new "view all courses" and "view all programs" pages allow you to sort and filter our offerings by topic, delivery style, start date, time of day, credit or non-credit and more. This makes it easier to find the best offerings for your particular needs. 
---
Availability icons next to courses show you which courses are open for registration right now. This makes it easier to choose open/available courses.
---
Our new series pages—for special events like lectures, full-day workshops, multi-day conferences and more—provide more series-specific information, and make it easier to register in a full series. 
The improved Newsfeed means we can get news and updates about Continuing Studies out faster to students/readers... so expect more news and updates on the courses and programs that interest you!
---
The improved Online Learning section makes it easier for online students to access their courses, find new offerings and get information specifically for them. 
---
The new and improved Shop Cart makes it easier than ever to register for courses, even on your smartphone!
---
The new layout for My Account makes it easier to update your personal information, view your transcript, access your courses, read your messages and more.
---
Our new, cleaner design makes the site easier to read, navigate and browse
We hope you enjoy the new look and feel of continuingstudies.uvic.ca.