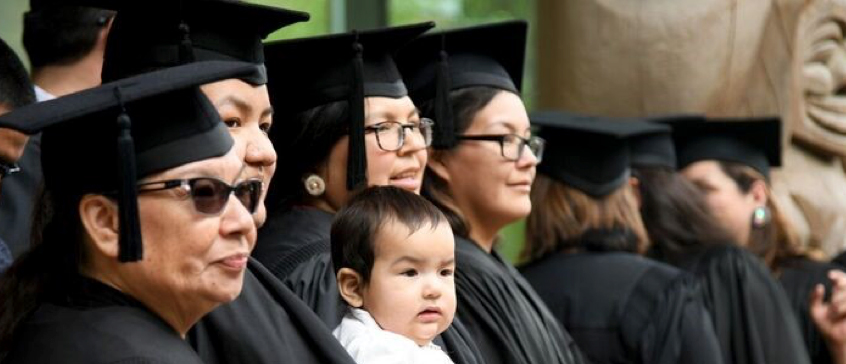 Photo Credit: Kim Chorong, University of Victoria
Celebrating CALR Graduates!
Congratulations to:
Tocassie Burke, Iqaluit, NU
Margo Neglak, Cambridge Bay, NU
Agnes Egotak, Kugluktuk, NU
Charlotte Bearskin, Chisasibi, QC
Beverly Cox, Chisasibi, QC
Pauline Cox, Chisasibi, QC
Suzanne Cox, Chisasibi, QC
Margaret Fireman, Chisasibi, QC
Heather House, Chisasibi, QC
Rachelle Lafond, Chisasibi, QC
Jennifer Napash, Chisasibi, QC
Karen Napash, Chisasibi, QC
Martin Pepabano, Chisasibi, QC
Sarah Rupert, Chisasibi, QC
Kristen Sam, Chisasibi, QC
Charlotte Tapiatic, Chisasibi, QC
Miyawbin Wapachee, Chisasibi, QC

In the News
We were so happy that 11 of the graduates from Chisasibi, Quebec along with some of their families made the long journey to attend convocation on June 12th. Read more here: https://www.uvic.ca/news/topics/2018+convocation-spring-hums-fireman+news
In May, CBC Yellowknife won a digital media award for the interactive article "My Language, my Heart" http://www.cbc.ca/news2/interactives/my-language/ which features four women (CALR students, graduates and an instructor) who are working to revitalize the Inuinnaqtun language in the Kitikmeot Region of Nunavut.
CALR Alumni Survey
This spring, CALR sent out an alumni survey to everyone who graduated between 2012-2018 to find out what they are up to now and their impressions of the program. Huge thanks to each and every one of you who took the time to send back the survey! Your thoughtful responses are very helpful as we work to continuously evolve and improve our program to meet the changing needs and priorities for language revitalization in communities.
Congratulations to Margaret Thompson from Fort McPherson, NWT, who was the winner of our draw for an Amazon gift certificate!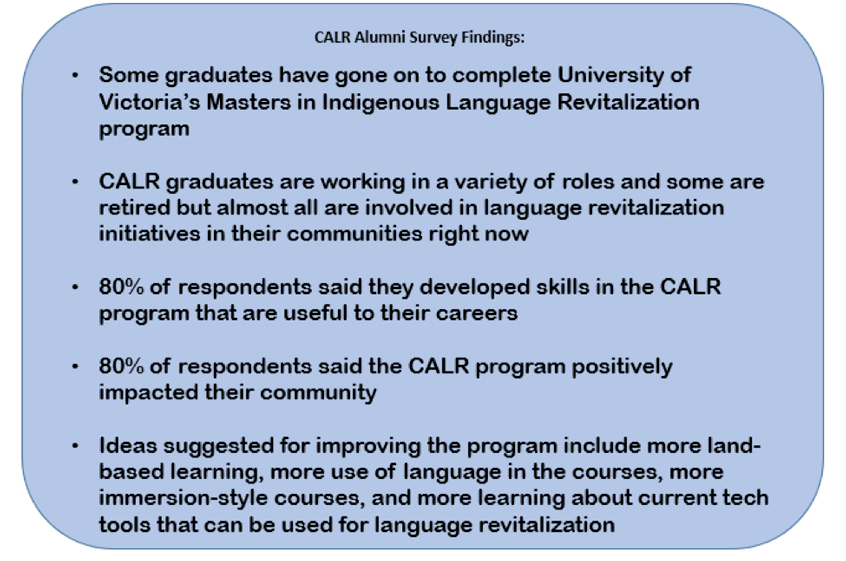 SILS 2018
By Su Urbanczyk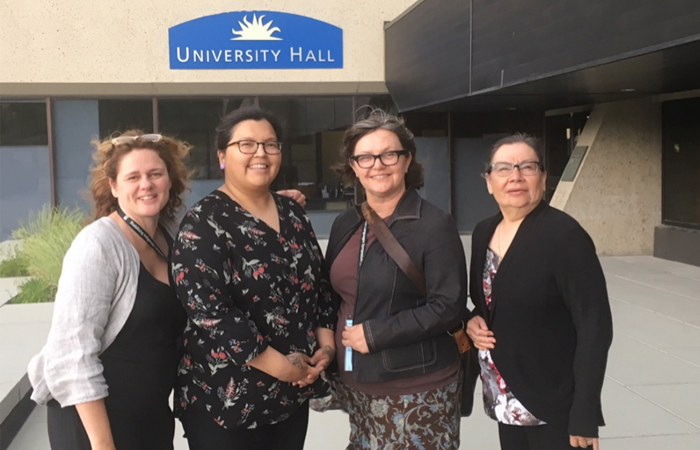 In the photo: Tania Muir, Director, Cultural Management Programs, UVic; Beverly Cox, Manager, Chisasibi Heritage & Cultural Centre; Dr. Su Urbanczyk, Associate Professor and CALR Academic Advisor, Department of Linguistics, UVic; and Margaret Fireman, Former Director, Chisasibi Heritage & Cultural Centre
The Stabilizing Indigenous Languages Symposium is the longest running and largest gathering that brings together Indigenous language stakeholders to share ideas, best practices and experiences in revitalizing and reclaiming Indigenous languages. The 25th meeting was held in Blackfoot territory, at the University of Lethbridge, from June 7 – 9, jointly organized by the Peigan Board of Education/Piikani Nation and the University of Lethbridge. UVic was well represented with faculty and staff from Indigenous Education, Linguistics and Continuing Studies. Among the group of presenters were representatives from the Chisasibi Heritage and Culture Centre (CHCC), Continuing Studies and Linguistics to share their story of the unique delivery of the Certificate in Aboriginal Language Revitalization (CALR) in the Chisasibi Cree Nation of northern Quebec. The presentation (ᐄᔨᔨᐤ ᐊᔨᒥᐦᑖᐤ - Iiyiyiu ayimihtaau 'Let's talk our language') discussed the context of language shift, and how the CHCC worked with UVic's CALR program to design courses to fit the goals of the community. Many instructors were local and the last six courses were all taught in Cree. After the conference, folks traveled to UVic for graduation ceremonies, in which the CALR was awarded to 14 CHCC staff members. 
Instructor Spotlight: Emily Angulalik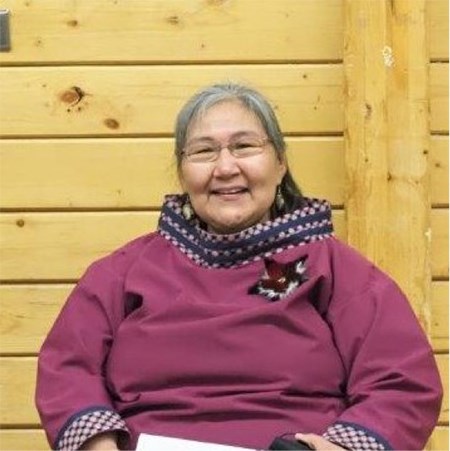 We would like to recognize the contributions of Emily Angulalik who has been teaching with the CALR program in Cambridge Bay since 2016. Her knowledge and experience in linguistics, land-based learning, language revitalization and the Inuktut languages, along with the connections she fosters between the students, Elders and community, have been vital to the success of the program.
Photo Credit: Daniel Tigner, Nunavut Arctic College
My name is Emily Angulalik, one of the last descendants of the late Stephen Angulalik, who was one of the first Fur Traders in the Canadian Arctic around the Queen Maud Gulf Area, around the 1920's.
Born in Yellowknife, NWT, and raised in Cambridge Bay and at Perry River, Nunavut with my eleven other siblings who were born and raised out on the tundra.  I have three adult children and many growing grandchildren. I am currently employed as a Language Instructor for the Kitikmeot Campus at Nunavut Arctic College, here in Cambridge Bay.
What truly inspires me to work within the field of language revitalization is the preservation, the practice and the use of our Inuinnaqtun language, through many interactions through immersion, by listening and interacting with our vital knowledge and language keepers, the elders in our community.  It is important to know your identity, your language, your culture and appreciate what our society brings to this day, take pride, living in two worlds and never forget where our ancestors came from.  The main benefits of the courses within the Certificate in Aboriginal Language Revitalization program is the awareness and the understanding of preserving, promoting and the practice of our Inuit language in a wholistic approach.  Our language and culture goes hand in hand, without the culture we have no language, and without the language we have no culture, we must always combine the two together.
Partnership Updates
Behchokǫ̀, NWT
CALR partnered with the Tłı̨chǫ̨ Government in Behchokǫ̀ again this year for three courses including two levels of the Tłı̨chǫ̨ language taught by Mary Siemens. To date, 111 students from Behchokǫ̀ have now participated in one or more CALR courses!
We would also like to congratulate Tammy Steinwand-Dechambeault, Rosa Mantla and Nora Wedzin who graduated this month with their Masters in Indigenous Language Revitalization from the University of Victoria! Tammy and Rosa are also CALR alumni and Tammy and Nora have both worked to bring CALR courses to Behchokǫ̀ over the past few years. All have been instrumental in leading language revitalization initiatives in their communities. Congrats!
https://tlicho.ca/news/congratulations-nora-rosa-tammy
Chisasibi, QC
In Fall 2017, the cohort of students from the Chisasibi Heritage and Cultural Centre completed their last courses for the certificate. This was a unique partnership in that students were all completing the program as professional development for their jobs at the Centre. This allowed us to co-create a program that was tailored to the specific goals of the Centre and six of eight courses were delivered partly or wholly in the Cree language. It also allowed for course projects that flowed and extended from one course to the next, with end products that were authentic and useful to the Centre such as new exhibits and school programming. The Chisasibi Heritage and Cultural Centre has been sharing their story and ideas for language revitalization with their community, the schools, the larger region and nationally at SILS 2018.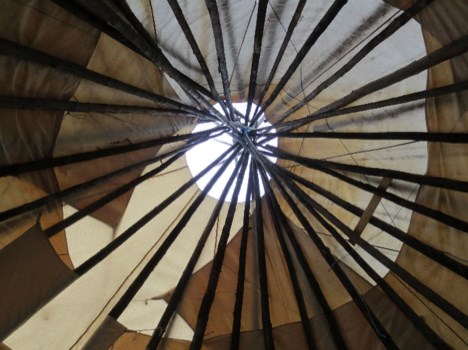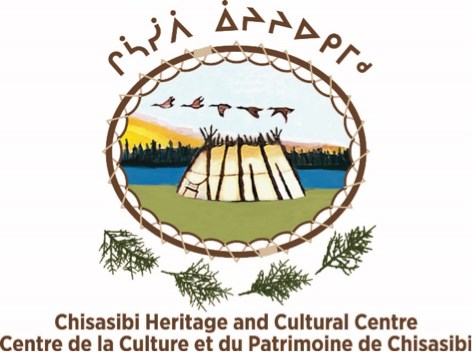 Upcoming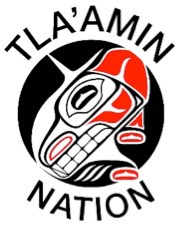 Tla'amin Nation
In July, we are excited to work in partnership with the Tla'amin Nation to offer LING 181 Introductory Linguistics for Language Revitalization, which will introduce students to the sounds of ʔayʔaǰuθəm with a focus on learning the orthography and understanding the sounds of the language.
Nunavut 2018-19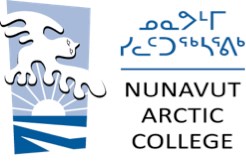 Our partnership with Nunavut Arctic College continues with delivery in Cambridge Bay. Open to both continuing and new students, the focus for this year's courses will be on land-based language learning, language policy, language planning, and the standardized Inuit language writing system.
Indigenous Studies Major
In Fall 2018, UVic will launch its new Indigenous Studies major program to complement its already-existing minor program. Two CALR courses are among the approved courses: at the lower level, LING 181 Introductory Linguistics for Language Revitalization and in Breadth Area Four: Community and Land Based Learning, LING 379 Language and Land.
https://www.uvic.ca/humanities/indigenous/
New Coordinator- Welcome!
After being with the program for three and a half years, Janna Wilson will be moving back to Haida Gwaii with her family at the end of June.
"It has been truly inspirational to work with all of our partners, staff, Elders and students and I am very grateful for my time here. I am also very pleased to welcome our new Coordinator, Kirsten Mikkelson and wish her all the best in her new role!"
Practical Info
Are you working towards your CALR certificate but are not sure which classes you have completed and which ones you have left? If you have set up your Netlink Id, you can sign into "Online Tools." and find your classes and your grades, order transcripts, change your address, etc.
If you haven't set-up your Netlink Id, contact calr@uvic.ca and we can send you the easy set-up instructions along with your student number.
Do you need your transcript? You can order it directly through UVic's Online Tools. or you can download a paper request form here https://www.uvic.ca/current-students/home/academics/transcripts/index.php  that can be faxed or mailed in.