with instructors Maria Elena Cuervo-Lorens and Estelle Kurier
By Therese Eley, Marketing Services
When the world first went into lockdown [in March 2020], we at Continuing Studies at UVic were already in the midst of delivering our spring courses and planning our course selections for September. It seemed as though the whole world had suddenly come to a crashing halt.
All face-to-face classes were immediately cancelled. Several of our professional programs were able to proceed as scheduled, as many of them were already being offered online, but for our community programming, we had virtually no online course offerings. Historically, our community programming had predominantly been taught through face-to-face delivery styles, but now that left our entire audience of community learners out of luck.
As a division, we knew we had to pivot and evolve. And we did. Immediately.
Our program staff and instructors put a tremendous amount of effort into making courses available to learners, as quickly as possible, despite the chaos that was going on around us. The very initial community course offerings that we were able to convert to an online delivery style were our World Languages courses, the first of which started just a few weeks after lockdown began.
World Languages instructors Maria Elena Cuervo-Lorens and Estelle Kurier were among the first of our instructors to make the switch to the online delivery style.
---
Maria Elena Cuervo-Lorens
Spanish Language Instructor
Maria Elena was born and raised in Mexico City where she taught English as a Second Language for several years before moving to Canada in 1976. After retiring from a career at the Saanich School District, she was approached by a friend, Didier Bergeret, who happened to be the program coordinator for the World Languages courses at Continuing Studies. He asked her if she would be interested in teaching Spanish courses and she agreed. That was in 2006, and she's been teaching with us ever since.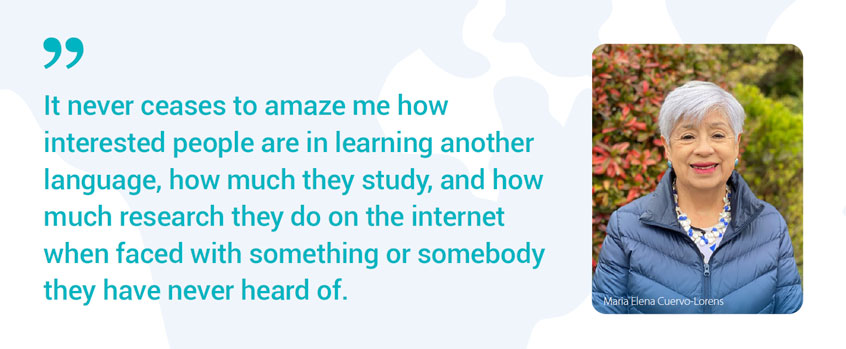 What do you enjoy about teaching at Continuing Studies?
I am a very active person and teaching motivates me to learn more, it keeps me active physically and mentally.
How is teaching at Continuing Studies different from other kinds of teaching that you do?
I published two cookbooks and for about 15 years I taught cooking classes at Camosun College and in many different cooking schools on Vancouver Island, and in Vancouver, Calgary and Toronto. My books are not only recipes, but they also contain some history, providing a glimpse into the Spanish culture. Teaching Spanish at Continuing Studies gives me the opportunity to teach more than the grammar of the language, but also the customs, arts and culture of the Spanish world.
What surprises you about some of the people who participate in the course(s) you teach?
It never ceases to amaze me how interested people are in learning another language, how much they study, and how much research they do on the internet when faced with something or somebody they have never heard of. What also surprises me is their interest in new technology and how much time they devote to learning new things.
How did you find teaching your class online for the first time?
This was the first time that I [have ever] taught online. I must say that it was quite a challenge but I was willing to learn. I think some of the benefits of the online courses are that we can reach students from other parts of BC. Last term I had a [former] student [who lives] in Vancouver now, and this term I have a student from Cowichan Bay, one from Prince George and another from Mill Bay.
How have your students been responding to the new online format?
I am amazed at their response. They are willing to learn, no matter how difficult it is, and they do it with interest.
If you could, what one thing would you like to change/improve about the way we all experience life in the world today?
I find it almost impossible not to talk about [the pandemic] because it is something we have never experienced before. The lockdown and isolation we experienced when all this began was not at all something nice. We need contact with people, family, friends, neighbours, etc. This is an aspect of life, in general, that we can always improve.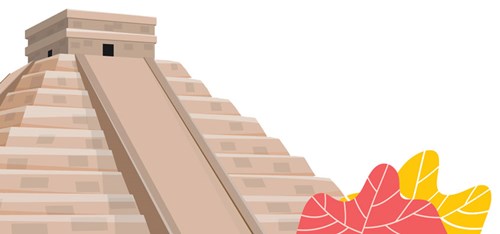 ---
Estelle Kurier
Italian Language Instructor
Estelle is a PhD candidate in Hispanic and Italian Studies at UVic, where she also teaches Italian courses on campus. She heard through the department that Continuing Studies was looking for an instructor for Italian courses and she has been teaching with us since January 2019. She is also a wife and mother to a young son and when she's not working, she loves flamenco dancing.

What do you enjoy about teaching at Continuing Studies?
I enjoy sharing the beauty of the Italian language and seeing the students' enthusiasm.
What are the best moments for you in your work?
I love when students have breakthrough moments and are able to say and do things they didn't expect they could do. I also enjoy when students share their experiences with Italian language and culture.
What surprises you about some of the people who participate in the courses you teach?
I am often surprised [with the reasons] why some students are learning Italian. Some plan to do walking trips in Italy, while others want to learn some Italian to communicate with relatives they have never met before. Others want to learn a new language for "brain exercise". It's great for that!
What do you see as the challenges or benefits of teaching online?
Benefits: Everyone stays safe and students can take the course from anywhere (the fall introductory course had students from all around BC!).
Challenges: Making sure that everyone feels comfortable with participating online, and audio/video issues (fortunately, they do not happen too often).
Is there a formative experience from your past that maintains its relevance to your work or life now?
When I was little, I loved looking at my French mother's large, hardcover art books with beautiful colour images of great works of art. The Italian ones were my favourite, even as a child. My mom taught me about the Italian artists (and others) in French, but said that maybe one day I would go to Italy and see the great works of art in person. As an adult I was lucky enough to do so many times! This early development of language skills and exposure to the culture of other countries has stayed with me, and these are skills and interests that I continue to develop today.