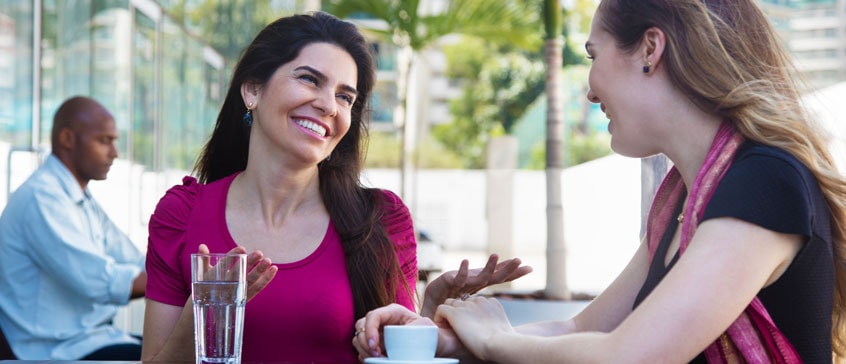 Spanish: Intermediate
COURSE
Course description
Do you have a basic knowledge of Spanish and are looking to progress further, or have you recently completed Spanish: Beginner? This intermediate course will help you improve your speaking abilities by giving you ample opportunity to practice conversation with other fellow students. An increased emphasis on grammar will also strengthen your writing skills.
We encourage students to participate in our language courses more than one time in order to truly learn the material taught over 10 lessons. It also gives you additional exposure to varying activities within each topic.
Learning objectives
In this course you will:
Learn the use of the Imperfect tense
Learn the use of ser and estar in the Preterite and Imperfect tense
Learn the Subjunctive tense and its formation in all its moods
Learn which verbs trigger the subjunctive and use this tense accordingly
More advanced vocabulary to use in different situations
Carry on a conversation using advanced grammar structure
Improve their writing skills in Spanish
Be able to write synopsis of the material read
Be able to discuss and express an opinion on the material read
Prerequisites
You feel comfortable speaking in the present tense. Can continue the study of the preterite (past tense) and begin to learn the second past tense in Spanish: the imperfect tense.
You can ask and understand directions. You can identify most places in a town and give directions to them. You can request information, express opinions. Can ask and tell where someone is going, how they are getting there, what they will do and when.
You are able to have more meaningful conversations and able to improve your writing skills. You are now very comfortable using regular and irregular verbs in the present tense
You start being acquainted with other tenses, such as the present progressive and the subjunctive tense as well as getting familiar with the extensive use of the reflexive verbs.
Textbook:
Complete Spanish Step-by-Step, by Barbara Bregstein with McGraw-Hill (mandatory).
Dates
World Language courses are offered three times per year:
September (registration opens in June)
January (registration opens in November)
April (registration opens in November)
Registration details
Online registration temporarily unavailable
Sorry, this course is not available for registration at this time.
This course is in progress. Please contact us for more details.
Online registration is closed for this course. You may still be able to register by phone. Call 250-472-4747 to find out.
This course is on your wish list. You will be notified when this course becomes available.
Continuing Studies statement on use of educational technology
This course will require the use of Zoom and may use other education technology such as internet-based applications, cloud services, or social media. In order to complete this course you will be required to either consent to the disclosure of your personal information outside of Canada to enable use of these technologies, or work with the Division of Continuing Studies to explore other privacy protective options (such as using an alias or nickname).