Program description
The Climate Action Planning micro-credential (CAP) is a great opportunity to learn the foundations of planning for climate action. You will develop the skills needed for you as a professional to put into action at all government levels. Through various planning, coordinating and leading activities, this program will help you lay out collaborative strategies and solutions for navigating the challenges of climate change.
The Climate Action Planning micro-credential is supported by a partnership between the School of Environmental Studies and the Division of Continuing Studies, resulting in expertly designed courses taught by leaders in their fields. Courses are current, comprehensive and designed for the needs of busy professionals looking for online learning.
Program features
---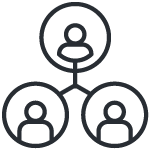 Interdisciplinary:
This program is taught with an interdisciplinary approach to climate action, which will strengthen your critical thinking and program solving skills.
---

Online Flexibility
With only three online courses, this program has flexible completion timelines and you can log into the course to work at your own pace.
Program partner

Faculty of Social Sciences, School of Environmental Studies
Through the StrongerBC future skills grant, students may be eligible to receive funding for this program from Sept. 1 - Dec. 31, 2023.
View details