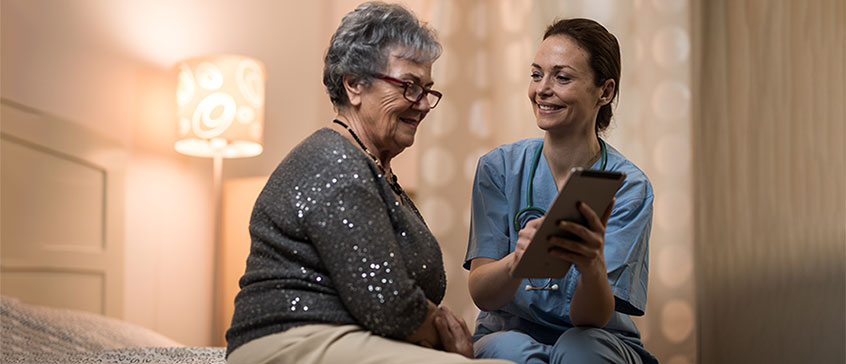 Strategies and Actions for Independent Living (SAIL)
COURSE
Course description
New professional development course for home-care aides
This short, practical fall-prevention course is designed for home health care aides who provide day-to-day in-home care for frail older adults or persons with disabilities. In addition to training, after the course is completed, optional renewable access to the SAIL Resources is available to graduates, as well as to organizations such as home care agencies, health authorities and community health services. These resources include all the SAIL tools and the exercise program, as well as additional guidance for organizations on implementing and managing a SAIL program.
Training course
Frail older adults and persons with disabilities often wish to live independently in their own homes, but falls in the home are a major health threat. The practical SAIL tools help home care aides and community support workers to help clients live at home more safely by preventing falls and fall injuries. This NEW instructor-facilitated, three-week course offers case studies, videos, discussion and interactive assessments. You'll learn how to apply the following tools in your work:
A specially developed, three-level, home-based exercise program that includes videos and handouts for client use, and training for you on how to motivate and support clients to use the program
A detailed risk factor checklist
An action plan framework with numerous strategies and actions to reduce each risk factor
Fall tracking and reporting tools
Optional ongoing yearly access to the SAIL tools and videos available on a sliding scale. Includes additional guidance for home care service supervisors to manage a SAIL program.
Students completing the course will receive a Professional Development Certificate.
SAIL Resources
Graduates who would like to retain access to the SAIL tools and videos after completing the training course may purchase one-year renewable access to the SAIL Resources. This access is also available at a discounted rate for organizations—such as home care agencies and health authorities—that enrol multiple staff members in the SAIL training course. Materials for organizations include additional training and guidance to support implementation and management of a SAIL program within the organization. These additional materials are designed for home health professionals including nurses, physiotherapists and occupational therapists who perform client assessments and supervise home health care aides on their teams.
Resources include:
Calendar for recording falls
Fall report
Checklist and Action Plan for risk identification and fall prevention
Home Activity Program (HAP) videos and illustrated handouts for clients (available in English, Farsi, Mandarin and Punjabi)
HAP videos and training materials for home health care aides to motivate and support clients
Client assessment tools
Guidance for supervising home health professionals (RNs, PTs, OTs, etc.)
Implementation manual for home care organizations
Learning objectives
Define a "fall" and categorize fall risk factors
Discuss the guiding principles of SAIL, identify the members of the SAIL team, and describe their roles in supporting clients to use the SAIL tools
Explain the importance of behaviour change to fall prevention
Demonstrate effective client-focused communication skills in working with clients to make behavioural changes
Explain the purpose and method for using each of the SAIL tools
Discuss strategies for motivating and supporting clients in working with each of the three levels of the Home Activity Program
Who is SAIL for?
The SAIL training course is created for:
Home health care aides
Community health workers
Home support workers
Personal support workers
Home care providers
Certified personal caregivers
Other health professionals who provide day-to-day care in clients' homes
The SAIL Resources are available separately, and are suitable for:
SAIL training course students and graduates
Home health professionals including RNs, LPNs, PTs, OTs who assess clients and supervise home health care aides providing day-to-day support for clients
FAQs
Read additional SAIL FAQs.
Funding for BC residents
This program has been fully funded by the British Columbia Ministry of Advanced Education, Skills and Training. Training is provided at no cost to British Columbia residents who work (or are training to work) in home health care. Visit Skills to Support Independent Living for details.
Registration details
Online registration temporarily unavailable
Sorry, this course is not available for registration at this time.
This course is in progress. Please contact us for more details.
Online registration is closed for this course. You may still be able to register by phone. Call 250-472-4747 to find out.
This course is on your wish list. You will be notified when this course becomes available.