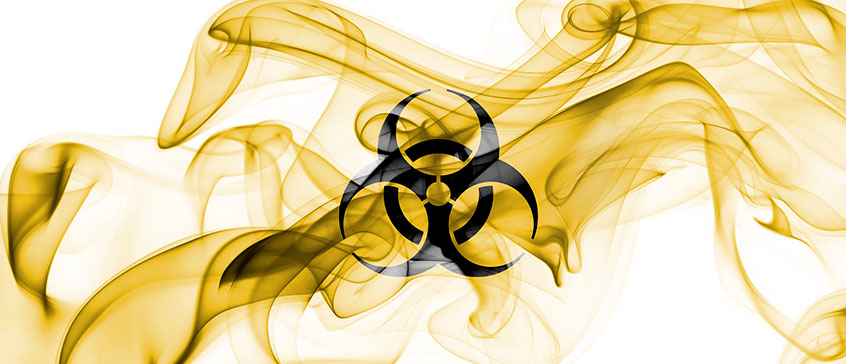 Course description
This course provides an overview of occupational health hazards with particular emphasis on the effects of exposure to hazardous chemical and biological agents, medical surveillance programs and early preventive measures. Information is provided on the fundamental mechanisms of toxicity including:
the route of entry
the relationship between exposure effect and response
acute versus chronic toxic effects
occupational exposure limits
We examine sources of non-ionizing electromagnetic radiation, such as video display terminals and lasers, as well as sources of ionizing radiation like radioisotopes and X-rays. The course also focuses on a number of hazardous materials commonly found in the workplace that have been known to cause occupationally associated illness. Some assessments in this course include team work.
Learning objectives
Describe how the human body interacts with toxic substances.
State the principle factors needed to evaluate the presence of a potential toxic substance.
Describe the types of hazards associated with various workplace activities and processes.
Evaluate the basic principles, practices, and technologies used to control adverse exposures.
Recognize and prioritize responses to potential hazards and use evidence based decision making to recommend corrective action.
Prerequisites
Admission to the certificate program in Environmental and Occupational Health.
Funding
This course is eligible for the StrongerBC future skills grant. To register using this grant please first review your eligibility and then select the StrongerBC future skills grant fee type below. 
Registration details
Select your offering:
Loading section fee(s)...
You're already on the waiting list for this item.
Sorry, this section is full.
Online registration temporarily unavailable
Sorry, this course is not available for registration at this time.
This course is in progress. Please contact us for more details.
Online registration is closed for this course. You may still be able to register by phone. Call 250-472-4747 to find out.
This course is on your wish list. You will be notified when this course becomes available.
Continuing Studies statement on use of educational technology
This course will require the use of Zoom and may use other education technology such as internet-based applications, cloud services, or social media. In order to complete this course you will be required to either consent to the disclosure of your personal information outside of Canada to enable use of these technologies, or work with the Division of Continuing Studies to explore other privacy protective options (such as using an alias or nickname).