Celebrating CALR Grads
Congratulations to Julia Ogina and Lucy Taipana from our Nunavut cohort who graduated this Spring. We thank you for your contributions to the program and wish you well in your future endeavours!
---
New UVic Indigenous Languages web portal
The University of Victoria has created a new Indigenous Languages web portal to bring together all of the programs, departments and Faculty working on language revitalization.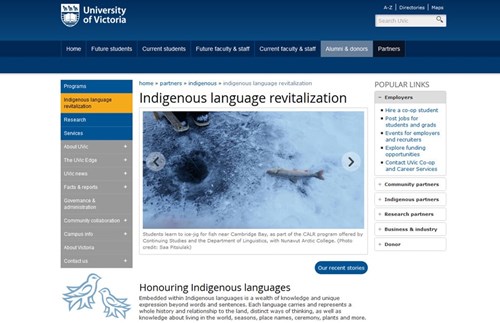 ---
In the news!
On June 21st (Indigenous Peoples Day), CBC featured a fantastic article on Emily Angulalik, a CALR instructor and three CALR students who are dedicated to revitalizing Inuinnaqtun in Nunavut.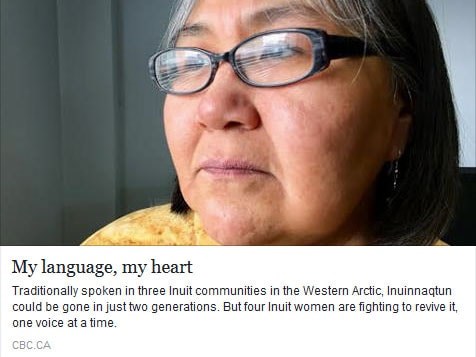 ---
In the news: Ditidaht Community School
From March to June 2017, students, teachers, staff, Elders and community members came together at Ditidaht Community School for LING 159 Ditidaht Language Level 1. The course was taught by Adam Werle (UVic), Dave Mason (Ditidaht Community School) and Ditidaht Elders Dorothy Shepherd, Mike Thompson, Christine Edgar and Fran Tate. Students (who were a mix of teenagers and adults) shared that they really liked the community that formed within the class and the support they received from the Elders.
Check out the article written in Ha-Shilth-Sa, the Nuu-chah-nulth Tribal Council newspaper:
---
Partnership Spotlight: Chisasibi Heritage and Cultural Centre
UVic has been collaborating with the Chisasibi Heritage and Cultural Centre in Chisasibi, Quebec since fall 2016 to deliver the CALR certificate to 16 staff members of the Centre as professional development. This has been an exciting opportunity for UVic- while community-based courses are always tailored to the community context, this is the first time we have worked with a whole group from a cultural centre. This community is trilingual with Cree being a first language (and English and French as second or third languages). It has been extremely valuable to have Cree-speaking instructors for most of the courses who have been able to teach the courses in Cree.
Chisasibi Iiyiyiukimikw (Chisasibi Heritage & Cultural Centre) activities at Mamoweedow 2017
Submitted by the Chisasibi Heritage and Cultural Centre
There is an annual gathering on Fort-George Island (site before the town of Chisasibi was re-located) during the month of July. In the Iyiiyuu (Cree) language, 'Mamoweedow Mishtukch' translates roughly to 'Let's gather on the Island'. For this years 'Mamoweedow' the CHCC staff helped our Elders exhibit and present on the Seal hunt & Dog teams' traditional activities. The Seal hunt and Dog team project began in February and is a result of many project ideas coming together. The Language revitalization course group project from the University of Victoria is one project. With the guidance of the Elders, the project began to take shape; they decided what needed to be made for the Seal hunt and dog team display and demonstration. They shared many stories with us and often we were amazed and delighted to hear their stories about when they went on the seal hunting trips and how they used dog teams. They came to the Cultural Centre and worked on the materials that needed to be prepared. The CHCC staff documented the Elder's stories and teachings, as well as the process of the Elders sewing the Sealskin hunting outfits, also the dog team outfits and sleds. Youth heritage workers worked along side and observed the Elders as they created the clothing and tools. We heard and learned a lot of Iyiyuu Iyimuun (Cree language) that we do not normally hear while we are here in town. The Elders shared their knowledge with us, and we learned a lot while they were working here with us. The Elders presented the Seal skin and dog teams projects at Mamoweedow on July 18 at the Cultural building on Fort-George Island. The Elders presented on the seal hunters clothing and the dog teams' equipment and our youth workers modelled the Seal Hunters outfits. We were so proud to see our youth workers dressed up as Seal Hunters. Offering food to guests is an Iyiyuu tradition: our Heritage workers served the guests bannock on a stick, homemade blueberry jam and tea. There are plans to present these projects to a wider audience at a regional Cree Culture gathering in August at one of the neighbouring community. We are pleased that the Elders can share their stories and knowledge with other communities too.
We are grateful for our Elders who contributed to this project: Nancy & Moses Snowboy, Maria & Harry Scipio, Harriet Scipio, Elizabeth Cookish, Susan Scipio. The Elders have hunting grounds on the coast where James Bay meets Hudson's Bay.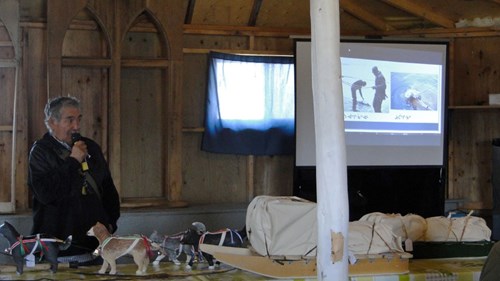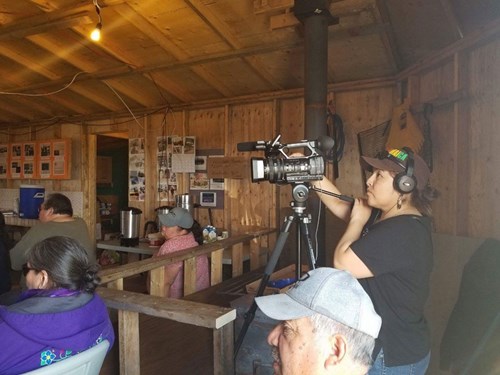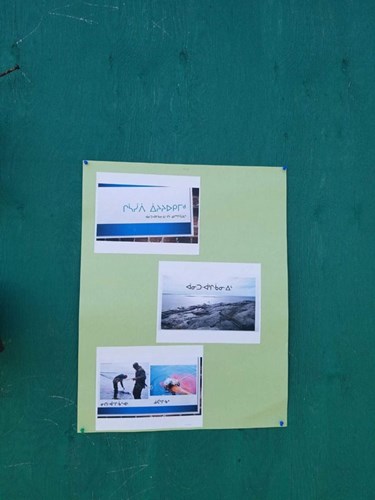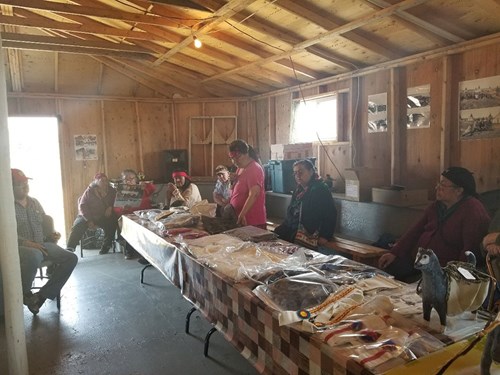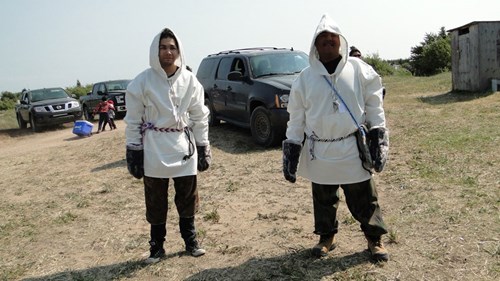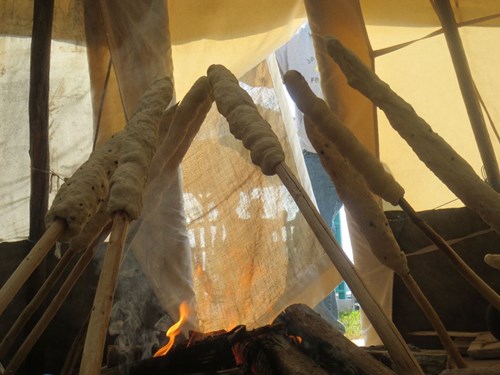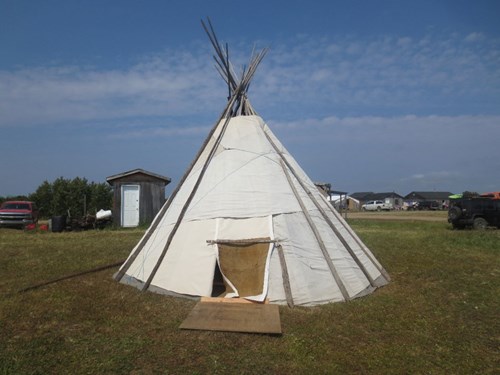 Photos: Margaret Fireman & CHCC Collections
---
Program News
Nunavut Arctic College
This year marks the third year we have been working with Nunavut Arctic College in Cambridge Bay to help revitalize the Inuinnaqtun language. For all Nunavut students, here is the program schedule. We look forward to another great year!
View program schedule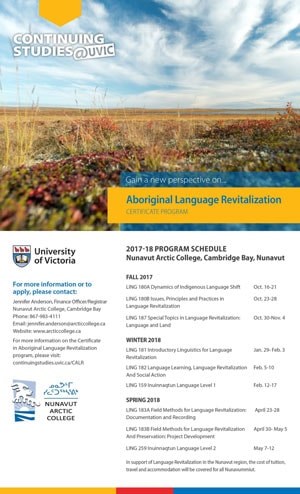 ---
FNESC First Nations Languages Conference 2017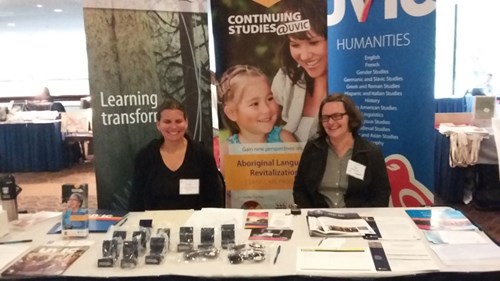 Dr. Su Urbanczyk, CALR Academic Advisor and Faculty Member in the Department of Linguistics and Janna Wilson, CALR Program Coordinator, were so pleased to see so many language teachers, learners and activists at the FNESC First Nations Languages Conference this July in Vancouver! We met many new people, reconnected with old colleagues and friends, and finally met face-to-face with people we have been working with at a distance. We were inspired by the Language Champions, the wonderful keynotes we heard and the stories we listened to and shared at our table. Thanks to everyone who stopped by! We look forward to connecting with you more.
---
Upcoming Courses
Our community-based offerings generally do not follow the same schedule as on campus and are sometimes organized with less notice. For all students looking for CALR offerings, please "like" our Facebook page to stay in the loop or feel free to contact me for current offerings. We will be working with our partners early this fall to determine what communities would like to see. We are also anticipating summer courses on campus for 2018- stay tuned!
---
Practical Info
Are you working towards your CALR certificate but are not sure which classes you have completed and which ones you have left? If you have set up your Netlink Id, you can log into "My Page" and find your classes and your grades, order transcripts, change your address, etc.
If you haven't set-up your Netlink Id, contact calr@uvic.ca and I can send you the easy set-up instructions along with your student number.
Do you need your transcript? You can order it directly through My Page or you can download a paper request that can be faxed or mailed in.
---
FOR MORE INFORMATION
Program Coordinator: Janna Wilson 250-721-8504 or by email at calr@uvic.ca
https://continuingstudies.uvic.ca/CALR
https://www.facebook.com/uviccilr/
---