Featured articles by PR instructors and graduates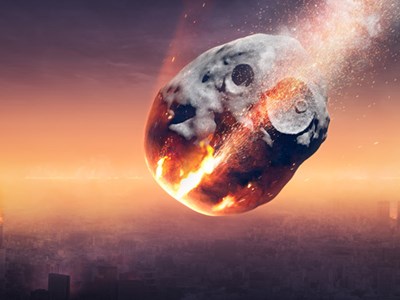 When a crisis catches you by surprise
by instructor Anna Marie White
"What to do if a meteor lands on our building." Of all the emergency preparedness plans I have encountered, this one stands out as most memorable. Organizations typically plan for economic downturns, security threats, maybe even human injury or loss of life. Although tragic, these are the familiar risks any public relations professional can imagine an organization might need to prepare for. Some of the not so familiar ones—projectiles from beyond earth's atmosphere or the current global pandemic—can prove more challenging to anticipate...
---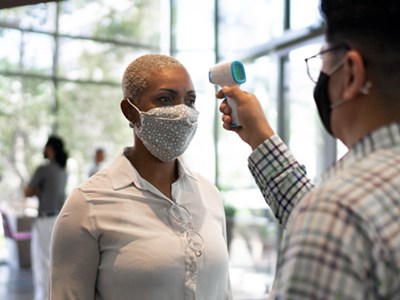 An ethical return to work
by instructor Maryjane Martin MS, APR, FCPRS
In early July, Leger 360, a leading Canadian market research company, reported 51% of Canadians are finding it stressful to leave their house and be in public. And the fear of contracting the coronavirus continues to trend upward among Canadians. Similarly, in the US, a recent CBS News poll found more than half of all employees lack the confidence to return to their offices or worksites. While the majority of businesses in Canada have been financially impacted by the COVID-19 pandemic, Statistics Canada has found small businesses have been hit particularly hard by this crisis...
Get involved
If writing is your passion, the PR Diploma program will gladly publish your work!
What? Write about any PR topic that general public might be interested in. Word count - 300 to 500 words. Tone – easy to read, conversational.
Who? Your audience is general public interested in public relations, marketing and communications management.
When? Anytime!
How? Submit your work via email to uvcshs1@uvic.ca. Your work will be reviewed by our content specialist (graduate of the program!) to ensure it's consistent with the UVic Editorial Style Guide.
Where? Once approved, your work will be published on our website, social media and newsletters like this one.
Why? This is a great opportunity to improve your writing skills, build your writing portfolio and simply share your writing passion with others!
Program News
2021 program schedule
The 2021 PR Diploma course schedule is available for your planning. Please note, all courses are subject to minimum enrolment and the schedule is subject to change. Early registration is recommended as courses can reach capacity quickly.
Convocation news
Congratulations to the 38 graduates who celebrated completion of the PR Diploma program in November 2019 and June 2020:
Alicia Anne Mitchelmore, St. John's NL
Alora Danin Bossy, Chatham ON
Amber Sessions, Vancouver BC
Andrea Cubala, Lethbridge AB
Andrea Mary Sands, Edmonton AB
Ashley Racette, Vancouver BC
Benjamin Lee Borne, Saskatoon SK
Cory Jack Thomas, Summerside PE
Erin Kelly Mohr, Yellowknife NT
Hilary Meredith Holmes, Kincardine ON
Holly Harmony Thomas, Edmonton AB
Jacqueline M. Tokaryk, Maple Ridge BC
Jenna Marie Langejan, Courtenay BC
Jennifer Ellen Bordyniuk, Calgary AB
Julie Nimmock, Vancouver BC
Justine Ma, Vancouver BC
Kalah Klassen, Whitehorse YT
Kellie Marie Vachon, Surrey BC
Krista Wicklander, Garson ON
Malinda Ann Lee, Winnipeg MB
Mariane C. Louvet, Beaconsfield QC
Maureen Doucette, Saskatoon SK
Nichole Sakina Usher, Minot ND, USA
Rebecca Joan Zirk, North Vancouver BC
Renee M. VanderHarst, Brantford ON
Ricki-Lee Laura Jewell, Victoria BC
Ross Horgan, Saint John NB
Sabreena Thouli, Victoria BC
Shannon Marie Cossette, Martensville SK
Sharon Rutendo Ruyter, Edmonton AB
Stephen Thomas Hamilton, Prince George, BC
Sydney Soldan, Burnaby BC
Thomas Robin Sutherland, Victoria BC
Timothy F. Rose, Calgary AB
Tracy M. Loewen, Nanaimo BC
Victoria Jade Brandt, East St. Paul MB
Vincent E. Burke, Ponoka AB
Wendy Ricciardi, Barrie ON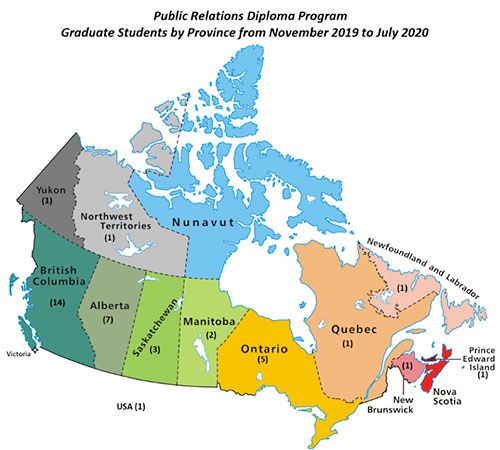 Student resources: awards and bursaries
Continuing Studies Bursary
Each term, the Division of Continuing Studies offers bursaries to assist learners in furthering their education. Bursaries are awarded to learners who can display evidence of a commitment to lifelong learning and who can demonstrate financial need. Applications are available online on the Continuing Studies financial support page.
---
CPRS/CISION Student Award of Excellence
The CPRS and CISION offer a Student Award of Excellence each year. This award recognizes student excellence in the PR field. Eligible students must be enrolled in their final year (or equivalent) of a recognized, full-time PR program, instructed in a Canadian post-secondary institute. Students must be studying at an undergraduate, diploma or certificate level and have a CPRS student membership. The application due date is typically in April of each year. Information about the 2021 application is available on the CPRS website.
---
Denis Racine Student Bursary
This annual $1,000 bursary is available to CPRS-VI student members who live on Vancouver Island or the Gulf Islands, are registered in a communications-based post-secondary educational program, and have completed three or more courses. For the application deadline, visit the CPRS-VI website.
---
Torchia Scholarship
This scholarship is awarded to a student who has chosen to study public relations or communications in one of Canada's two official languages that is not his/her first language or mother tongue. The student will be entering his/her second year of undergraduate study in public relations or communications at a Canadian university or college, in either a degree program or a multi-year diploma or certificate program that meets recognized standards of education in September. The scholarship is valued at $1,500 and is for one year only. Information about the 2021 application is available on the CPRS website.
Stay Connected
Check out our program LinkedIn page to stay connected and learn about program updates, registration information and PR news.