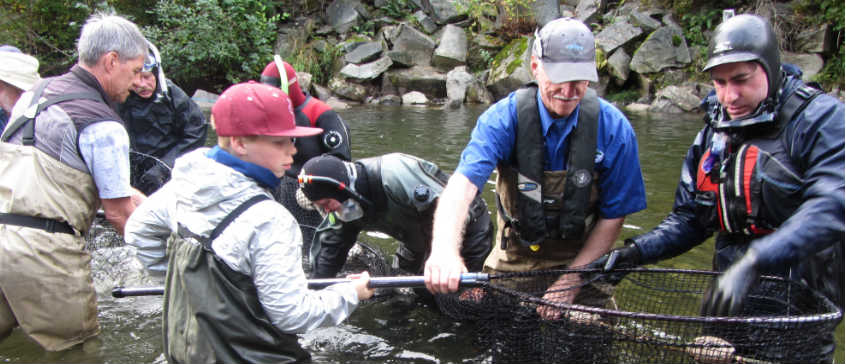 Restoration of Natural Systems Program alumni, Wendy Kotilla, founded the Youth and Ecological Restoration Program (YER) in 2004 based on her own experiences of being surrounded by the healing powers of nature. The highly successful and unique program, located in the Comox Valley on Vancouver Island, provides vulnerable youth aged twelve to eighteen with one-on-one work experience through ecological restoration methods, Ecotherapy practices, and mentoring support.
YER was designed to encourage youth to broaden their sense of healthy relationships with themselves, the natural world, and the human community. They come to the program through referrals from a number of organizations including the John Howard Society, the Comox Valley Community Justice Centre, the Ministry of Children and Family Development, alternate schools, and other referral associations. YER is a laddered program with three levels, each providing more advanced skills and responsibilities. Youth who complete the program receive a certificate and an honorarium, as well as other forms of recognition.
For the past thirteen years over 300 youth have participated in the program with an overall completion rate of ninety-five percent. By immersing youth into nature, without the distractions of electronic communication and social media or the patterns of everyday behaviors, youth are able to build high standards of responsibility and commitment for themselves.
"There is a combination of interactions with nature and people that inspires the youth to have a broader compassion for themselves and others. Increasingly recognized as Ecotherapy, this practice integrates humans and their environment for improvements to mental, emotional, and physical well-being. YER is motivated by these principals and applies them for the benefit of the youth participants. Each YER youth is a gift that, handled with care and respect, presents potential to be shaped into an individual with a hopeful and successful future." – Wendy Kotilla
YER works with over a hundred community partners, and this enthusiastic community support combined with the ongoing success of the program itself has provided its young participants with the opportunity to gain new skills and perspectives. To read more about current YER projects, visit the Youth and Ecological Restoration Program website.