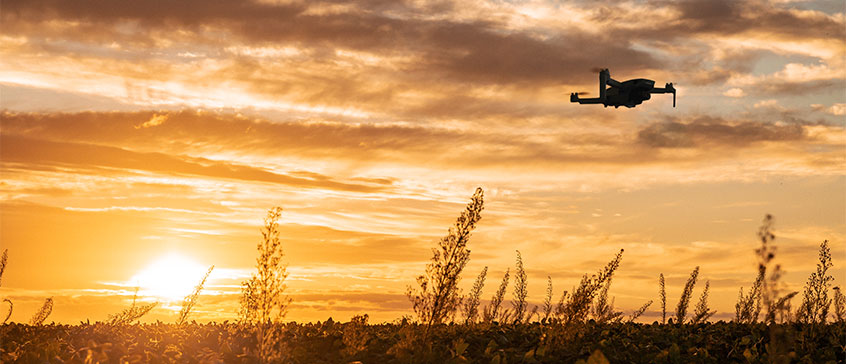 Course description
Mapping with Drones 1 will take your knowledge toolkit to new and exciting heights! This course focuses on foundational knowledge and skills you need to operate a small drone and map your data output. It is designed for those with little to no experience operating a drone or creating digital maps. You will gain hands-on skills and knowledge about drone systems and regulations, flight planning and sensor payloads, as well as how to capture and analyze cartographic output models. You'll complete applied, real-world projects working with spatial data and a variety of free and open-source software including Open Drone Mapping, QGIS, Google Earth and Map Pilot Pro,. If you're looking for just-in-time, geospatial skills to effectively assess and monitor your natural or built environment for work or recreational applications, this course is for you!
Learning objectives
By the end of this course, you will be able to: 
determine how and where small drones can be used for mapping applications
plan and fly small drones to generate accurate 2D air photo mosaics and 3D models
process acquired data using WebODM Structure from Motion open-source software
measure and extract 2D and 3D features from processed output
create basic cartographic output and figures
Software and computer requirements:
This program will use a variety of open geospatial software including: Google Earth, QGIS, Web Open Drone Mapping (ODM), and Map Pilot Pro. The ODM software will have an associated fee of $79 (for the program) to support a streamlined software set up. Specific software instructions will be provided upon acceptance to the program. Therefore, software should not be downloaded prior to that time.
The minimum hardware requirements are listed below. These requirements have been tested and enable a student to process data and complete assignments in a reasonable amount of time. The hardware specified is not meant to represent the hardware necessary for commercial drone work. 
Minimum Hardware / Software Windows 
Windows 8 or newer
8th Generation Intel i5 or higher processor with 8GB of RAM
20GB free disk space
Note: Additional RAM, an SSD hard drive, and newer generation processors will process datasets more rapidly. 
Minimum Hardware / Software macOS 
macOS 11 or newer
Mac hardware produced 2010 or later that supports virtualization
8GB of RAM
20GB free disk space
8GB of RAM
Note: Additional RAM, an SSD hard drive, and newer generation processors will process datasets more rapidly.  
iPad or iPhone - minimum IOS 13
Registration details
Online registration temporarily unavailable
Sorry, this course is not available for registration at this time.
This course is in progress. Please contact us for more details.
Online registration is closed for this course. You may still be able to register by phone. Call 250-472-4747 to find out.
This course is on your wish list. You will be notified when this course becomes available.
Continuing Studies statement on use of educational technology
This course may use education technology such as internet-based applications or cloud services. In order to complete this course you may be required to either consent to the disclosure of your personal information outside of Canada to enable use of these technologies, or work with the Division of Continuing Studies to explore other privacy protective options (such as using an alias or nickname).