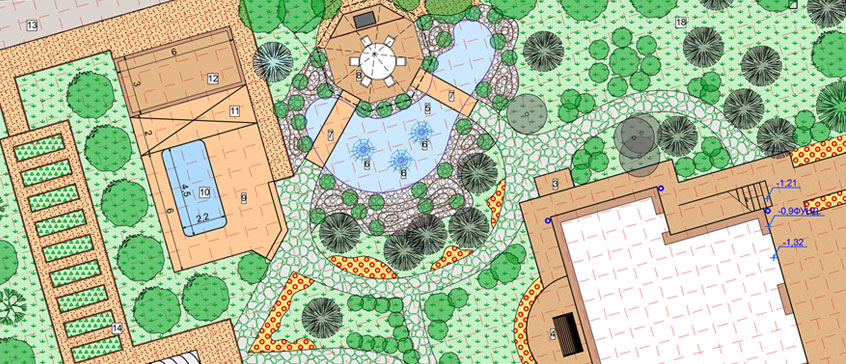 Course description
In this eight-week course, you will learn the landscape design process through asynchronous online exercises, readings, video demonstrations, lesson activities and class discussion forums via an online Brightspace learning platform, in addition to a weekly live session. You will leave the course with the essential tools to design a garden landscape plan specifically for the Pacific Northwest.
Please note: The weekly 1.5hr live session will be offered face to face as well as simultaneously via Zoom, starting on September 19th. You will have access to the Brightspace course site on September 18th. Choose one of these live session delivery options when you register. Once your selection is made, you must continue with your chosen delivery mode for the remainder of the course.
Learning objectives
After taking this course, you will be able to:
understand and apply foundational principles and design requirements of residential landscape design
use basic drafting tools and equipment
render and recognize landscape design drafting symbols
acquire and remember a basic understanding of Latin plant names
create a list of plant material including perennials and woody plants
assess costs of materials for the landscape
render a final landscape design plan
Registration details
Select your offering:
Loading section fee(s)...
You're already on the waiting list for this item.
Sorry, this section is full.
Online registration temporarily unavailable
Sorry, this course is not available for registration at this time.
This course is in progress. Please contact us for more details.
Online registration is closed for this course. You may still be able to register by phone. Call 250-472-4747 to find out.
This course is on your wish list. You will be notified when this course becomes available.
Continuing Studies statement on use of educational technology
This course will require the use of Zoom and may use other education technology such as internet-based applications, cloud services, or social media. In order to complete this course you will be required to either consent to the disclosure of your personal information outside of Canada to enable use of these technologies, or work with the Division of Continuing Studies to explore other privacy protective options (such as using an alias or nickname).