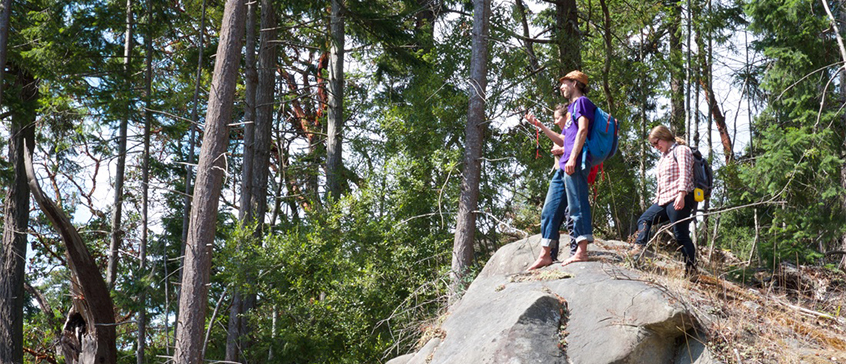 Course description
Compressed format field study focused on regenerative and restorative designs for ecological and social resilience. Skills and concepts will be honed through real world community engagement. Offered in partnership with the Galiano Conservancy Association with field portion based on Galiano Island. Email ehiggs@uvic.ca for more information.
Format
Semi-distance format requiring attendance on Galiano Island for nine days and readings/assignments to be completed before and after the field portion of the course.
Prerequisites
Acceptance to the RNS program or a combination of work and/or education experience equivalent to third-year standing, plus completion of ER311 or equivalent.
If you're not currently enrolled in the Restoration of Natural Systems (RNS) program, including UVic and Letter of Permission students from RRU and TRU, you must obtain approval from the Program Coordinator (ecorestoration@uvic.ca) before registering.
Tuition and fee payment
RNS Diploma students pay $100 of the course tuition upon registration, with the remainder paid to UVic Tuition.
RNS Certificate students pay the full course tuition upon registration.
PLEASE NOTE: Contact the Program Coordinator before registering online: ecorestoration@uvic.ca
To drop a course call 250-472-4747
Additional fees
There is a $900 course fee—in addition to course tuition—paid to the School of Environmental Studies.
Lorene Kennedy Field Course Awards are available to partly offset additional costs for full-time, undergraduate ES declared majors and minors, Environmental Studies graduate students and students in the RNS program.
Non-refundable fee policy
Course fees will be fully refundable if you withdraw a minimum of 10 business days* prior to the start date of a course. After that, a non-refundable fee of $50.00 will be charged in addition to the regular UVic fee reduction deadlines listed in the UVic Calendar https://web.uvic.ca/calendar/general/dates.html. This non-refundable fee policy will take effect January 1st, 2019.
*A business day is considered an official work day and does not include statutory holidays or weekends.
Registration details
Online registration temporarily unavailable
Sorry, this course is not available for registration at this time.
This course is in progress. Please contact us for more details.
Online registration is closed for this course. You may still be able to register by phone. Call 250-472-4747 to find out.
This course is on your wish list. You will be notified when this course becomes available.
Continuing Studies statement on use of educational technology
This course will require the use of Zoom and may use other education technology such as internet-based applications, cloud services, or social media. In order to complete this course you will be required to either consent to the disclosure of your personal information outside of Canada to enable use of these technologies, or work with the Division of Continuing Studies to explore other privacy protective options (such as using an alias or nickname).