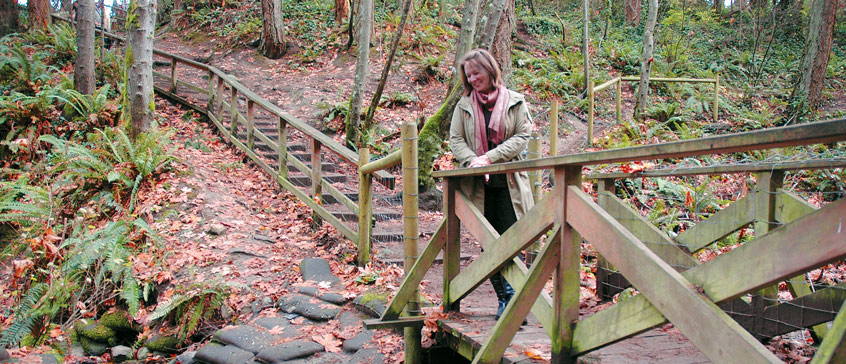 with staff member Elizabeth Bowman
Netflix lover / forest walker / positive thinker
By Ashley Davis, Marketing Services
For Elizabeth—or Liz, as she's known around the office—one of the best parts of her job is meeting those members of the community who consider themselves to be lifelong learners. As a program coordinator within Continuing Studies' Arts and Science unit, Liz coordinates the humanities courses, as well as the ever-popular Deans' Lunchtime Lecture Series—where UVic faculty members give talks on the interesting research being done on campus.
"Because I attend many of the lectures and programs that I organize, I get to meet […] faculty members who are passionate about their research and teaching, [as well as] community members with so many different interests, who thrive on feeding their curiosity about the world we live in. Being able to play even a very small role in connecting these two groups is energizing."
While it is clear that the people she works with are a big part of Liz's life, and she claims she often looks forward to "a great big laugh at coffee time with my amazing colleagues", it is her parents who she names as her most influential mentors. They've each had positive effects on her throughout her life, in their own way. From her father, she learned the importance of a sense of humour and of questioning the world around her, while her mother's belief that there is goodness in everyone—even if you sometimes have to look really hard—shaped her empathetic outlook.
You can tell her parents are still strong influences in her life, as Liz proudly displays a letter pinned to her office bulletin board, written to her by her father when she was just 13 years old.
"It's actually a magazine article that he wrote about the origins and importance of our public education system, but he styled it as an anonymous letter to me. I thought it was pretty great when I was a teenager, and it becomes more and more important to me the older I get. It reminds [me] to nurture certain parts of myself."
As a mother herself, you start to get the impression that Liz aims to instill the same strengths in her children that her parents gave her. She jokes that she likes to annoy her family with her resourcefulness by reminding them: 'You'll always find what you need.'
For example she says, "[If] I need something specific and can't find it, a reasonable alternative always appears. Even if it's [not] what I wanted in the first place," Liz explains, "I make it work, and then annoy them by saying, 'You'll always find what you need!'" Now the average person wouldn't necessarily agree—I mean, how can someone make something out of nothing? This is where Liz's MacGyver-like skills, and more importantly her positive MacGyver-like mindset, come in handy. She starts to tell a story about how her daughter, when very young, once wanted to fix an item and excitedly looked to Liz and yelled, "Mom, fix it with tape!", as if she could just wave a magic wand and all would be well again. But that's exactly what happened—because remember, 'You'll always find what you need.'
Liz is the first to note that this motto may not apply to all situations, but it certainly gives you a small glimpse into the type of world that a positive thinker chooses to live in.
Want to learn more about Liz's humanities courses and the Deans' Lunchtime Lecture Series?
continuingstudies.uvic.ca/humanities  |  continuingstudies.uvic.ca/deans-lectures