with Dr. Jo-Anne Clarke, Dean, Continuing Studies
By Therese Eley, Marketing Services
In September, Continuing Studies at UVic welcomed our new Dean, Dr. Jo-Anne Clarke, to the team. Since then, she has been busy settling into her new role and we have been enjoying getting to know her better. 
Jo-Anne came to us from Calgary, where she lived for most of her life. "My dad was in the air force so we moved around a lot when I was a kid," she explains, "I was born in New Brunswick, but we travelled around every few years. And then we landed in Calgary."
She recalls memories of their childhood home, and specifically her mother, who she credits as having the biggest influence on who she is today. "My mother was an amazing woman. She was from a big family and didn't have the opportunity to go to university when she was young. She went back to university when I was in elementary school, which was a shift for all of us. I think that really influenced me." 
"We had this little study area in our home. It was connected to our garage, a little workshop area that we turned into a study room for my mom when she went back to school. And I always LOVED school, so I would go in there with her. I think that was part of the reason I loved studying; I would have this time with her. We'd study together in that room and it was quiet time for just the two of us. We'd have these nice conversations and there was just this really precious feeling in there for me," she reminisces.
As a young woman, Jo-Anne began her career working in the field of social work, specifically in community education.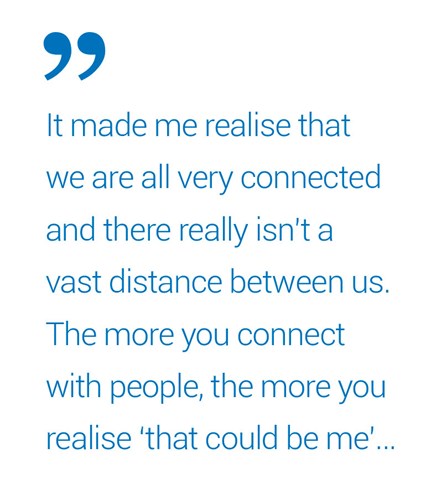 "That's where I started educating people. I got the opportunity to work in a million different environments: from group homes to schools. I worked with people living on the streets, I worked in prisons, with people with disabilities of all kinds—so I got this opportunity to work with a huge variety of people in different settings," she reflects. "It made me realise that we are all very connected and there really isn't a vast distance between us. The more you connect with people, the more you realise 'that could be me'. It was a good foundation and good training experience."
However, she goes on to say, "I was really young and naive at the time, I just went into it and maybe that was a good thing. It's really good work, but it's hard work, because you're working with people who are on the very margins of society all the time. You are always advocating for them and I got quite burnt out, quite tired." So when Jo-Anne had an opportunity to move into the educational sector, she saw it as a chance to recharge herself. 
"It's not that you don't care, you don't get hardened. I cared more and more, and I found myself losing that boundary that kept things healthy for me. But you never really lose that ability to connect with people on a personal level. It's important." 
At this point in her life, she was now married and had a young daughter at home, and the change of pace was a welcome one. 
"When I moved into education, I felt calm because I realised, 'there's no real emergency in education'. You know it's really just such a privilege to work on advancing and transforming ourselves." 
She was working in continuing education at the University of Calgary, teaching human behaviour, team skills and communication skills, similar to the life-skills training that she had been doing in social work. She found she really enjoyed teaching adult learners and at that point decided to pursue her Masters in Continuing Education, with a focus on Adult Learning. 
Eventually she went on to complete a Masters in Human and Organizational Development, and a PhD in Human and Organizational Systems. Her career followed a similar trajectory, moving her into program administration in continuing education at both the University of Calgary and Alberta College of Art and Design, before moving her family to Victoria to assume the Dean's role here at Continuing Studies at UVic. 
Her family feels very blessed to have made the move to Victoria. "My husband and I used to say, 'if you could live anywhere, where would you live?' and Vancouver Island was always that place for us." 
Although she admits that it was hard leaving Calgary in some respects, it also felt like natural timing; her family was ready for the change, and they are enjoying getting familiar with their new city. They have started a family ritual of going out for dinner every Friday as a family, and they alternate who gets to pick the place. Jo-Anne laughs as she, a self-proclaimed foodie, says that she always picks somewhere new to try, whereas her husband is a creature of habit and usually takes his turn as an opportunity to revisit his favourite places. 
When asked what it is that she enjoys most about working in continuing education, she said, "I think the thing about Continuing Studies is that people WANT to be here. It's a privilege to work in a Continuing Studies area where you're providing opportunities for people to engage in meaningful conversation, to think about their own careers or what's important to them—be it for pleasure or career development, or for any of the reasons that people come together to learn. Lifelong learning has become a necessity in many ways. We live a long time now and people are yearning for meaningful discussion and interaction with others. And they get that in a Continuing Studies course. Once you come to a few classes, you realise 'This is great. I am meeting other people who share my interests.' It's a way of connecting people around ideas, and that is always very exciting for me."