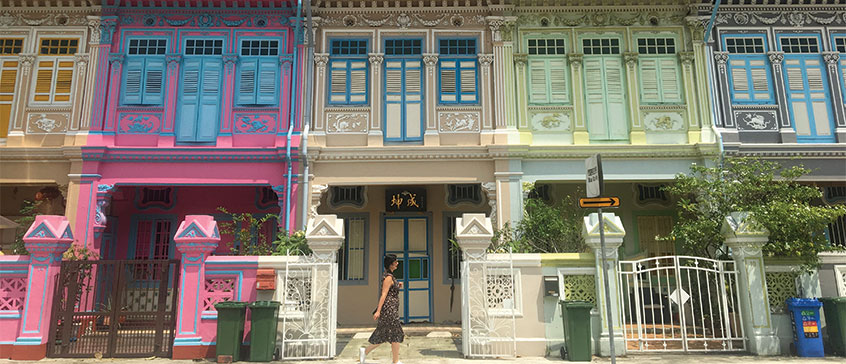 with Program Coordinator Misty Cozac
educator / traveller / volunteer
By Ashley Davis, Marketing Services
Considering that most of us spend eight hours per day, roughly 250 days per year, at work, the old adage that "variety is the very spice of life" begins to ring true.
Luckily for Misty Cozac, variety is a big part of her job: "I love that I never have an average day. My job involves program creation and delivery as well as business development and international travel. One day I could be welcoming groups from countries such as China, Japan and Colombia. The next day, I could be travelling there myself. As someone who has spent many years living out of a suitcase abroad, this job is obviously a great fit for me."
Misty in Osaka, Japan
As the program coordinator for the Division of Continuing Studies' International Education unit, Misty works with international partners and educators to bring the University of Victoria's high quality teacher training to international classrooms.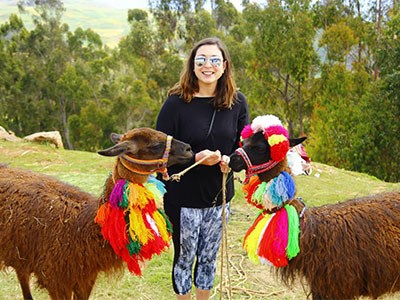 Making friends in Peru
"I meet many pre-service and in-service teachers and instructors from all over the world. I feel fortunate to meet such dedicated educators who are continuously developing professionally to better their pedagogy and methodology for their students. There are so many committed educational professionals out there; it's very inspiring."
Before moving to Victoria in the spring of 2018, Misty had worked for over a decade as a college and university instructor in Vancouver. She's also taught and lived around the world including in Japan, Italy and Mexico, and has spent time working in the Canadian theatre scene. "I feel like everything I've done in the past has led to helping me do my current work," she explains.
Not only is variety important in her professional life, but Misty values what it can bring on a personal level too: "I think the most interesting thing about my hobbies is how different they are from one another, yet how they all work together to balance my life. I love to hike, run, read, do yoga and meditate. I'm an avid film-goer, [and] I also volunteer with the Big Brothers and Big Sisters and do fun activities with my 'little' every week."
When asked to name her greatest extravagance, Misty doesn't even skip a beat: "Travel—I would spend every dollar I have on seeing the world. I have two prints above my computer. One says 'Wanderlust' and the other 'Inhale/Exhale'. It reminds me of what I'm passionate about and the importance of staying grounded."
From working in theatre to a career in international education—and to once working as a singing server in a sushi restaurant ("the less said about that job, the better," Misty jokes)—this program-coordinator-by-day-and-activity-seeker/volunteer-by-night has led a pretty fascinating (and varied) life.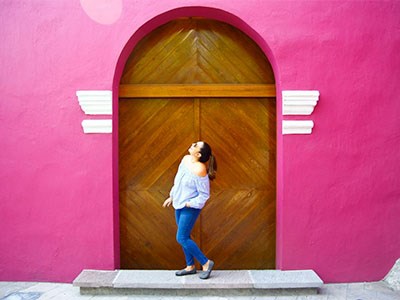 Soaking in the colours in Mexico!
Speedround!
I NEVER travel without… a "roll with the punches" attitude.
Happiness is… my whole family laughing at the same time. It is a sight to see.
Books or movies? Both
Run or walk? Jog
Batman or Superman? Neither—Wonder Woman or any of these awesome new female superheroes