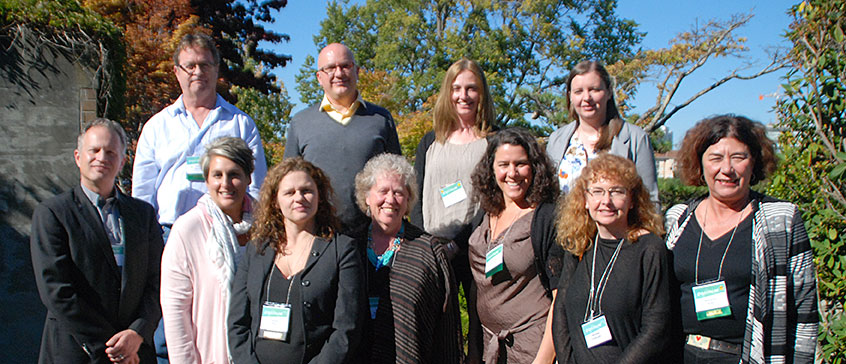 Congratulations to Continuing Studies staff member Tania Muir on her recent appointment of president within the BC Museums Association (BCMA). At the association's AGM on Thursday, Oct. 19—after one year as a councilor and two years as vice president—Tania was nominated by the membership and voted in as president. She will serve a two-year term.
Tania is currently the director of Cultural Resource Management Programs (CRMP) in the University of Victoria's Division of Continuing Studies. The CRMP unit offers educational opportunities for emerging and mid-career professionals working in the museum, heritage and culture sector. Prior to her work at UVic, Tania worked in the museum and gallery field developing innovative educational programs for diverse audiences. She has served on the BCMA council since 2014, supporting the museum, gallery and heritage community through advocacy, professional development and networking opportunities.
Some of Tania's accomplishments include an honours degree in English Literature and Art History from the University of Ottawa, completion of the Post-Degree Professional Program in Elementary Education from the University of Victoria, and a Master of Arts in Professional Communication from Royal Roads University. Her primary areas of interest include: community engagement, creative place-making, cultural memory, and the role of cultural production in public sphere.
When asked about her new appointment and what she loves most about working in the sector, Tania had this to say:
"It is an honour to serve as the president of the BCMA. After 60 years as an association, the BCMA has made some significant strides forward by growing membership province-wide and developing a more collaborative relationship with our partners and stakeholders, including the signing of an MOU with the British Columbia Library Association and the Archives Association of British Columbia.
BCMA has also developed an Indigenous Advisory Committee committed to serving the needs of Indigenous Cultural Centres and communities working with Indigenous cultural heritage. I very much look forward to deepening these relationships and exploring the synergies between those working in the sector.
Through my work in the field, I have had an opportunity to witness the incredible capacity for museums to act as centres for dialogue and to provide transformational learning experiences to their audiences. By providing a tangible connection to the past, museums can act as sites for reflection, while at the same time providing a fertile space to innovate and imagine our shared future.
The passion, resilience and sense of humour demonstrated by colleagues in the sector is an ongoing inspiration."