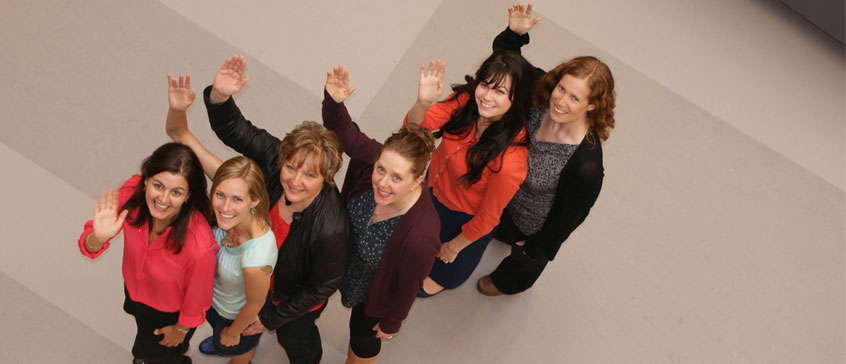 When you call Continuing Studies or send an email about registering in a course, you'll connect with one of our Registration staff. You'll also connect with their 57 years of experience (collectively) in helping students start, continue or complete their different journeys at UVic.
They'll help you keep a sense of perspective as you take care of the mundane details before starting the really interesting part of your Continuing Studies experience.
They'll make it seem easy and, if you're new to continuing education, you'll wonder why you didn't start sooner!
Sheila –  music fan | fashion lover | onamastician
"Cultural sensitivity has become an important aspect of my work as I meet students from all over the world. Among the many places I'd love to visit is southern Greece."
Katie – globetrotter | Disney fan | science-fiction reader
" One of my favourite places at UVic is Finnerty Gardens, especially when the rhododendrons are in bloom.
Christa – Reality TV fan | Thai food lover | enjoys cooking
" I was a travel agent for nine years. Planning vacations is very much like working with students as they confirm their study plans. I would love to visit Tahiti and stay in an over-water bungalow."
Alesha –  mother | reality TV fan | DIYer
"The best part of my job is the rest of my team! After a busy day I unwind with a Jazzersize class, a cup of tea and my children. My father is from Oxford so I would love to explore my family roots in England one day."
Rachel – foodie | bookworm | animal lover
"I enjoy seeing the smiles on people's faces after I've helped them. If I had to choose another occupation I would like to be a psychologist."
Amy – avid cyclist | bread baker | non-fiction lover
"I was a bookseller for 14 years and I find that dedicated readers have much in common with people who take our community courses. Happiness for me is a long bike ride in the morning and a nap in the afternoon.
This article was first published in the Fall 2016 Calendar.