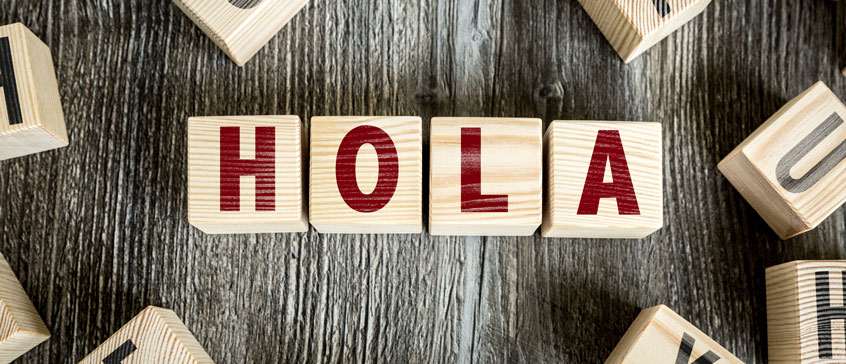 Spanish: Introductory
COURSE
Course description
This introduction to Spanish is designed for those who have no previous knowledge of the language. Here, you will acquire basic pronunciation, vocabulary and grammar, as well as conversation skills through practice in pairs and small groups. Videos and audiovisual materials will enrich the content of your classes and teach important aspects of culture.
Learning objectives
Upon successful completion of this course, students will:
Acquire good pronunciation of the language
Be able to introduce themselves, using the appropriate greetings and responses
Learn to recognize gender by using the correct definite and indefinite articles
Learn how to form the singular and plural of nouns and use them appropriately
Learn to count from 0 to 100, and be able to do basic math equations
Learn to conjugate and feel comfortable with the use of the verb ser and estar.
Learn the conjugation of the most common regular and irregular verbs in the Present Tense
Write simple affirmative, interrogative and negative sentences, using the appropriate grammar structure.
Be able to ask basic questions, using the various question words such as cómo, cuándo, cuánto, por qué, etc.
Learn idiomatic expressions that have no exact translation in English
Tell the time
Prerequisites
This introduction to the Spanish language is designed for those students who have no previous knowledge of the language.
We encourage students to participate in our language courses more than one time in order to truly learn the material taught over 10 lessons. It also gives you additional exposure to varying activities within each topic.
Textbook:
Complete Spanish Step-by-Step, by Barbara Bregstein with McGraw-Hill (mandatory).
Online Learning:
Our Online Hybrid language courses create an environment for both real-time communication and self-paced practice on the internet between instructors and students from different locations.
Our language classes are offered in both synchronous mode (Zoom) and asynchronous mode (Moodle). The dual modes allows the instructors to present the content of a course online while maintaining the richness of conversations in a virtual classroom setting and ensuring the guidance of students on a continuous basis. The synchronous exchanges with the instructor and the other learner's takes place in real time by; videoconferencing, chat and screen sharing. Each week, you login at a set time for the class instruction complete with individual, pair and group work, ask questions and receive verbal feedback from your instructor. The asynchronous learning, on the other hand, enables the students to access materials and resources at their own convenience during the week. Educational activities can take different forms, such as exercises, readings, forums, audio /video files, quizzes, etc.
Dates
World Language courses are offered three times per year:
September (registration opens in June)
January (registration opens in November)
April (registration opens in November)
Registration details
Online registration temporarily unavailable
Sorry, this course is not available for registration at this time.
This course is in progress. Please contact us for more details.
Online registration is closed for this course. You may still be able to register by phone. Call 250-472-4747 to find out.
This course is on your wish list. You will be notified when this course becomes available.
Continuing Studies statement on use of educational technology
This course will require the use of Zoom and may use other education technology such as internet-based applications, cloud services, or social media. In order to complete this course you will be required to either consent to the disclosure of your personal information outside of Canada to enable use of these technologies, or work with the Division of Continuing Studies to explore other privacy protective options (such as using an alias or nickname).