Updated on December 4, 2023: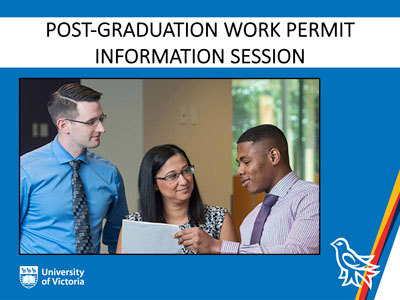 View slides from information session
This event took place on Wednesday, November 29, 2023. Below are the presentation slides from the presentation:
The session was not recorded.
Please note: The information in the presentation is current as of November 29, 2023 and may change without notice. Please visit the Immigration, Refugees and Citizenship Canada (IRCC) website for accurate, up-to-date information.
Post-Graduation Work Permit Information Session
Are you an international student? Are you about to complete your UVic program or have you recently completed your UVic program? 
You may be eligible for a post-graduation work permit (PGWP) to stay in Canada to work after graduation.
Information session topics include:
What is a post-graduation work permit?
Who can apply?
How to apply?
Validity period
Documentation needed to apply
COVID considerations
Frequently asked questions
Audience: UVic Division of Continuing Studies students