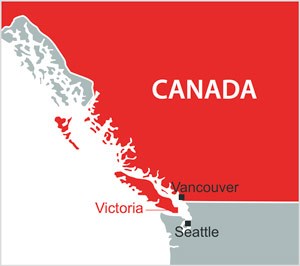 Welcome to Victoria, a vibrant city at the southern tip of Vancouver Island on Canada's spectacular West Coast. Famous for its natural environment, mild climate and welcoming community, Victoria's relaxed island lifestyle makes it the perfect place to live and learn.
Throughout the year, you'll find Victorians enjoying outdoor activities such as hiking, kayaking or camping. There are also lots of fun indoor activities to enjoy. Visit the Tourism Victoria events page to see what's happening in our city right now.
We're located on the southern tip of Vancouver Island, just a short trip to Vancouver and Seattle by ferry or plane.
Victoria quick facts:
Capital city of British Columbia
Population: 400,000
Mildest weather in Canada
Approximately 30 minute flight to Vancouver or Seattle
Over 200 restaurants and pubs in the downtown area
Excellent shopping and outdoor activities
Beautiful, clean city
Welcoming and supportive community for international students
Victoria top attractions:
Victoria is a great place to explore nature: go hiking, whale watching, stroll around downtown, visit a museum or take a sunset cruise! 
Hiking and walking trails

and many more!