Sound studies emerged as a field about 20 years ago, but it remains in flux. In this presentation, Dr. Joseph Salem introduces what defines sound studies and showcases UVic faculty whose creative and research achievements overlap with the field, including some of his own on the band The National.
---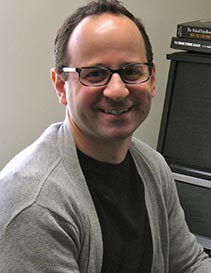 Dr. Joseph Salem is assistant professor and head of musicology at the University of Victoria. He holds degrees in piano performance, music theory, and musicology (PhD Yale, 2014), and regularly teaches music spanning from 1750 to the present. Research interests include musical semiotics, musical form, post-war music, non-notated music, and sound studies. He has a forthcoming monograph on Pierre Boulez and has started a new project on the Grammy award-winning band The National. His research has been published by Ashgate, Cambridge UP, and Wesleyan UP, as well as in the Journal of the American Musicological Society, Contemporary Music Review, The Journal of Music Theory, and Music Theory Spectrum.
Deans' Lecture Series
Research is continually reshaping the way we live and think. In these online talks you'll hear from distinguished members of the faculties at the University of Victoria and learn about their research interests.