Five Years Later – continuing to place ourselves in the Truth and Reconciliation Commission's 94 Calls to Action
In June 2015, after seven years of collecting evidence on the history and legacy of Indian residential schools, the Truth and Reconciliation Commission of Canada (TRC) released its 388-page Executive Summary (the "report"). This presentation will provide an introduction to the TRC and its 94 Calls to Action, and will focus on steps that can be taken by ordinary citizens to develop practices of reconciliation that are informed, and grounded in practical and collaborative action.
---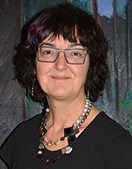 Rebecca Johnson, SJD, is a professor of law at UVic, where she teaches in the areas of criminal law, business associations, law-and-film, legal theory, legal process, and law legislation and policy. She is also the associate director of the Indigenous Law Research Unit. Over the past several years, Rebecca has worked on the development of the TRC-inspired blog #ReconciliationSyllabus.
Deans' Lecture Series
Research is continually reshaping the way we live and think. In these online talks you'll hear from distinguished members of the faculties at the University of Victoria and learn about their research interests.