Magnetic resonance imaging (MRI) is a very popular, non-invasive technique for measuring brain function when a person is either at rest or engaging in a task. The human connectome project (HCP) is one of the first large-scale projects, sponsored by the National Institute of Health, aimed at collecting and sharing MRI brain data in order to facilitate major strides to be made in mapping neural connectivity.
In this talk, I will explore the different patterns of brain functional connectivity emerging from subjects at rest and contrast that to background connectivity obtained from performing a subject completing a motor-task. I will outline the key building blocks to understanding functional MRI, functional connectivity and dataset structure before discussing the specific results and potential future results obtained by looking at a single subjects data from the HCP.
Understanding the background connectivity of our brain and how it compares to our brain at rest can provide insights that facilitate the improvement of diagnosis strategies, psychological assessments and future model improvements in all neuroscience specific medical fields.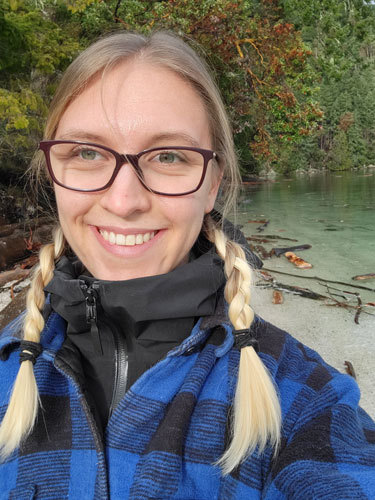 Mikayla Holmes is in the final year of a Statistics Masters degree at the University of Victoria where she also completed her undergraduate degree in 2021. She is originally from a small town in northern BC but has become a Vancouver Island enthusiast over the last 7 years spending most of her spare time exploring campgrounds, lakes and rivers and picking sea glass around the island. During the winter months she loves to take in live music from the Victoria Symphony and spend nights at home with her partner and two fur babies.
Deans' Lecture Series
Research is continually reshaping the way we live and think. In these online talks you'll hear from distinguished members of the faculties at the University of Victoria and learn about their research interests.