Understanding how the brain computes information requires a deep understanding of how the inhibitory and excitatory neuronal types within specified circuits are connected, as well as a detailed description of their functional properties. Recent advances in molecular, neurochemical, and/or anatomical techniques have led to an explosion in the number of known excitatory and inhibitory neuronal types in any given region of the brain, and the endeavor to understand neural computations is a challenge.
---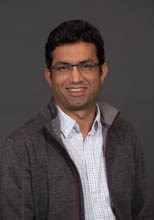 Research in Dr. Gautam Awatramani's lab aims to understand how specific elements of neural circuits in the brain interact through synapses to process relevant information. This is a considerable challenge since neurons are typically not isolated but entangled in an intricate mesh of overlapping circuits.
Deans' Lecture Series
Research is continually reshaping the way we live and think. In these online talks you'll hear from distinguished members of the faculties at the University of Victoria and learn about their research interests.