For over 30 years, the Division of Continuing Studies has been offering programming to support Indigenous learners and communities. This includes working in partnership with the En'owkin Centre, an Indigenous post-secondary institution in Penticton BC, to deliver culturally relevant educational opportunities on-site, in addition to numerous partnerships with Indigenous organizations and communities across Turtle Island for the delivery of adult learning opportunities in the area of Indigenous language revitalization and other community and professional programs. 
UVic's Indigenous Plan
UVic's first Indigenous Plan builds on our longstanding commitment to and relationships with Indigenous communities, both local and national. The plan establishes ambitious goals and clear accountability to work together to increase educational opportunities and success for Indigenous students and further develop education, research, outreach and engagement initiatives, and programs with an Indigenous focus. Download the complete Indigenous Plan or view a summary of the plan framework.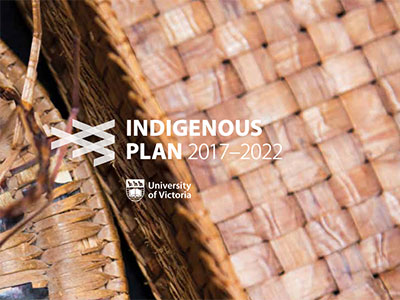 Indigenous connections
At UVic we continue to build on our commitment to—and our greatly valued relationship with—Indigenous communities. The Office of Indigenous Academic and Community Engagement offers a range of programs and events designed to develop and nurture those relationships.