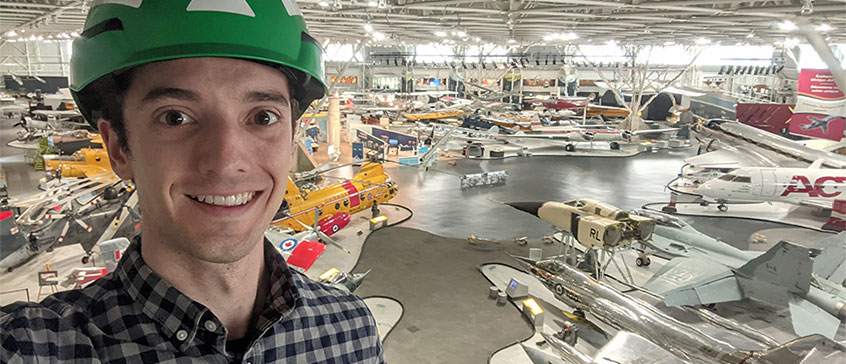 Justin Turcotte is a student in the Environmental and Occupational Health (EOH) certificate program at Continuing Studies at UVic. We asked him a few questions about his experience in the program so far.  
 
Why did you choose to pursue a career in the health and safety industry?
My first exposure to occupational health and safety was, like most people, as a worker. Throughout university, I worked a variety of jobs, and I quickly noticed gaps in health and safety training. I asked myself: why did some employers provide government safety hand-outs and require safety training on the first day, while others did not? It did not take me long to realize that for many organizations there is a lack of awareness and education about what their legal responsibilities are towards their employees. I was motivated to pursue a career in health and safety to help organizations develop safer workplaces for everyone.
 
Why were you interested in taking a professional development program in occupational health and safety?
As someone who works in a health and safety role, I am always looking to improve my knowledge, experience, skills and professional development. There is so much to learn in the health and safety field, and I will never know it all. In my short time working in health and safety, I have grappled with safety challenges involving livestock, aircraft, protests, trains, woodworking, needles, asbestos and much more. It's a fascinating field where you will always get the opportunity to learn something new. You gain a certain responsibility to maintain your knowledge and continually develop as a professional. It is for that reason I am pursuing my Canadian Registered Safety Technician (CRST) certification with the Board of Canadian Safety Professionals. The University of Victoria's EOH certificate program was the perfect way for me to get started.
 
Why did you choose UVic's EOH certificate program? What were you hoping to gain from it?
I chose the UVic EOH certificate program because of the credibility and flexibility it offers. In terms of credibility, the Board of Canadian Safety Professionals recognizes this program as an approved program for CRST and CRSP eligibility for applicants with a university degree. For anyone working towards those certifications, you can rest easy knowing that this program will help you to prepare. Additionally, as someone who works full-time, the asynchronous nature of this program offers the flexibility to complete work at times that work for me. I have total flexibility to balance my school, professional and personal life, which ensures I can take full advantage of everything the program has to offer.
As a winner of the 2022 Dick Martin Scholarship Award, tell us about your motivation in applying for this award.
The Canadian Centre for Occupational Health and Safety is an incredible resource for anyone looking for more information on workplace safety and health. When I saw that they were offering a scholarship to students studying occupational health and safety, I knew that it would be an excellent way to help me in completing the EOH program. The scholarship required an essay on a health and safety topic, which gave me the chance to apply some of what I had already learned in the program. My topic was "Polychlorinated Biphenyls in the Museum Industry," and I was able to apply some of what I had learned in my first term of the program, like the effect that the water solubility of a chemical has on routes of exposure.
How is the EOH program helping you achieve your goals (career, professional development or personal goals)?
Working in health and safety while taking the EOH program has been a rewarding experience. It allows me the opportunity to quickly apply what I learn in the "classroom" to my professional life. I also get to take my work situations and bring them into discussions with my peers in the program. I have had many assignments in the program that I have enjoyed working on. One assignment was to create a safe work fact sheet that explains workplace hazards and how to protect yourself from them. After completing the project, I adopted the same model for my workplace and now have several safe work fact sheets at my organization. My colleagues have remarked how these sheets are an effective way to convey safety information and I have my instructor and the EOH program to thank for the idea.