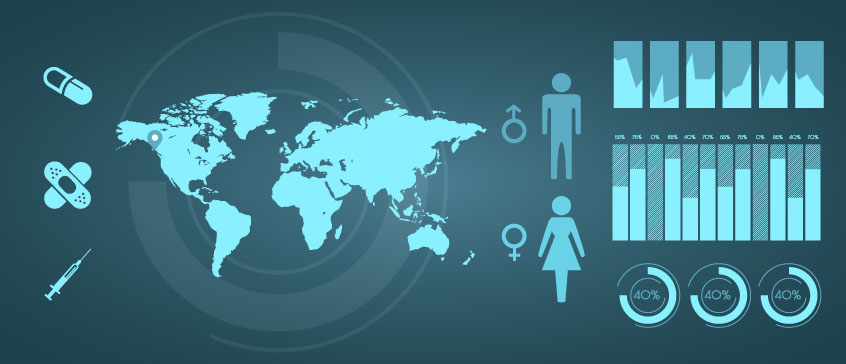 In today's world, the rapid expansion of big data, data networks, and related apps is changing the way we view and think about our society.
As a result, having knowledge of different kinds of data, and the necessary skills to critically interpret and assess these resources, is a real asset. Software programs such as R programming language, Statistical Analysis Systems (SAS) and Geographic Information Systems (GIS) are powerful tools for improving the understanding of data through visualisation and analysis, and are being increasingly used by more and more health professionals for planning, monitoring and surveillance.
Presenting data in infographic summaries, dashboards, or maps can provide valuable insights about large and complex research, enabling quick assessments of trends and interrelationships. This capability can assist in targeting public health initiatives as well as evaluating health programs and informing long term planning.
To excel in this rapidly diversifying field requires a broad range of skills. The importance of data analytics and spatial thinking, as it pertains to the world's growing health concerns—be they social, physical or environmental—also demands approaches that serve real time and remotely accessed, exploratory and highly collaborative research environments.
We have partnered with Population Data BC, BC's leading data and education resource for those working in the population health data field, to develop a program specially designed to equip people with the necessary skills to stay current and effective in this growing field. It is the perfect professional specialization complement for those working in Population and Public Health, Epidemiology, Environmental Studies, Statistics, Sociology, Kinesiology and Biomedical Communications to those working in research in the fields of Medicine, Psychology, Geography, Biostatistics and International Health, etc.
For more details on our Professional Specialization Certificate in Population Health Data Analysis (PSC in PHDA) and to apply for the program, click here.