Program description
Our most popular program - ELPI - is now available online! This intensive program focuses on academic English at three class levels. UVic teachers will guide students through specialized Reading/Listening and Writing/ Speaking sections of the program to ensure that they build strong skills in these crucial language areas. A passing grade on both sections of the program and exams during the final week of the program will allow students to advance to the next level of ELPI, in either online or face-to-face delivery.
Students will achieve this program's challenging objectives by actively engaging in "synchronous" (in real time) and "asynchronous" (according to one's own schedule) learning activities. During the synchronous classes, students will practice the skills they have learned, participate in discussion groups and give formal presentations. Asynchronous work will include participation in online forums, instruction of concepts and content through recorded lectures, completion of assignments and research. 
The course is delivered over 11 weeks and includes 10 instructional weeks with a week-long Reading Break at week 7.
Accreditation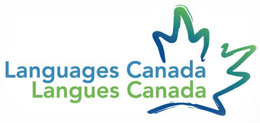 The English Language Centre is accredited by Languages Canada.
Program features
11-week program (200 study hours total), including a reading break at week 7.
20 study hours / instructional week
Intermediate - Advanced class levels: CEFR A2+ to B2 entry; CEFR B1 to B2+ exit
Focus on Academic English
Access to the UVic library's digital resources (journals, ebooks, etc.)
Offers seamless transition to face-to-face ELPI
Social Connect activities offered
Certificate of Completion (for students who receive at least 80% participation grade)
Record of Grade from one of Canada's top comprehensive universities